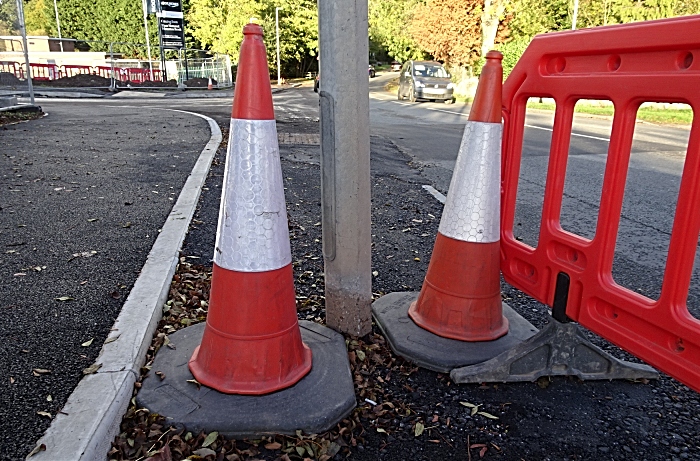 A street light left in the middle of a busy Wistaston road by developers is still there – despite council bosses pledging it would be removed "as a matter of urgency" two weeks ago.
Now a local pro-cycling group has hit out at Cheshire East highways, who say they are "satisfied" the light has been safely cordoned off.
Housing developers widened Church Lane and installed a new footpath as part of the access to the new Wistaston Brook Bloor Homes development on Witters Field.
But rather than remove and re-site the lamp-post, they left it and carried on laying the new road and pavement around it.
It is currently coned off with fencing panels, but remains a potential hazard for cyclists as well as other road users.
Local councillors said developers would remove it on October 22, and Cheshire East said it would be done "as a matter of urgency".
Ben Wye, of ACTive Crewe Travel which campaigns for safer cycling routes, said: "The lamppost in the road is just one example of the problem that our Highways have in managing developers and utilities roadworks for the benefit of residents.
"For several years, ACTive Crewe Travel has been campaigning for Cheshire East Council to follow DFT guidance to enable cycle access through roadworks.
"On Thursday, we will be joined by an officer from Transport for London to suggest ways of enabling local people to safely cycle through road closures as they do in most cases in London.
"This will encourage motorists to try cycling for a period which will take traffic pressure off diversions and perhaps encourage healthier travel options in future."
One Wistaston resident, who uses the route, said: "The only difference since the obstruction hit the headlines is that cones have been supplemented with plastic fencing and the light is now back in working order!
"I hope this eyesore and potential road traffic accident is removed immediately as it should have been removed by October 22."
Wistaston Ward Councillor Margaret Simon said: "Whilst I am disappointed that the lighting column has not yet been moved, I am pleased that the safety measures were put back in place straight away after concerns were raised by Cheshire East and myself."
A Cheshire East Council spokesperson said: "Our highways service is satisfied that all the necessary traffic management measures are in place and that the developers will relocate the lamppost in due course."
(Pics by Jonathan White)