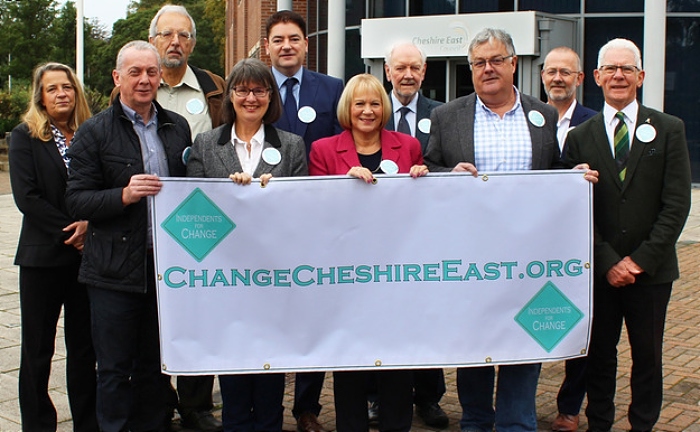 Independent councillors in Cheshire East are stepping up the fight to change the way the local authority is run, writes Stephen Topping.
Thousands of residents have already signed a petition launched by the group, which includes long-serving Nantwich North and West Cllr Arthur Moran.
Their petition calls for a referendum on whether Cheshire East should replace the current cabinet system with a committee system.
Now, a motion put forward by Cllr James Nicholas, of Bollington, and supported by Cllr Craig Browne, of Alderley Edge, is calling for a special meeting to be held in the new year for full council to debate bringing in the new system.
Cllr Browne said: "We want to see some change to the way CEC is run.
"We feel we have been left with no choice but to go down this route, and the evidence so far suggests that the public is on our side.
"We do realise there would be a cost attached to holding a referendum so we are giving the ruling Conservative group the opportunity to avoid that.
"But unless they are prepared to be more reasonable and consider the alternatives then we will have no choice.
"It is the public that are demanding the referendum by signing the petition – not independent councillors."
CEC currently has a cabinet including leader Cllr Rachel Bailey, the council's Conservative leader, and seven councillors who she has appointed from her own party – each with their own responsibility such as health, environment or planning.
In a committee system – which had been used by Cheshire's former borough councils until 2001 – decisions would be made by committees with proportional representation from all CEC's political groups.
Two more motions have also been put forward by the independents – one calling for scrutiny committees to be chaired by opposition councillors "as soon as possible", and another calling for other committees to be chaired by members from all political groups in proportion to CEC's make-up.
"There was a report commissioned by CEC in 2014 which recommended that committee chairmanships were shared between the political groups," Cllr Browne added.
"But that was four, nearly five years ago and nothing has changed."
CEC's constitution committee turned down a call to set up a working group looking at the council's governance in June, as well as plans to have opposition councillors chairing scrutiny meetings.
Cllr Rod Menlove, Conservative member for Wilmslow East, believes councillors need to see a full comparison of the pros and cons of each system from officers before such a 'substantial change' can be made to the way CEC is run.
He said: "The way to do it is to get the officers to do a totally unbiased comparison, based on fact.
"We could all look at that and say what we really think. There is no point trying to do it in a piecemeal way.
"I'm not surprised that the independent group wants to do it but I can't think of a good reason.
"They talk about democracy – we already have democracy."
Cllr Menlove also feels 'quite comfortable' about scrutiny committees being chaired by his fellow party members.
"Everybody has the opportunity to speak, everybody gets a vote, there are no problems about that," he added.
"I think it is just a red herring."
For more information about the petition, visit changecheshireeast.co.uk