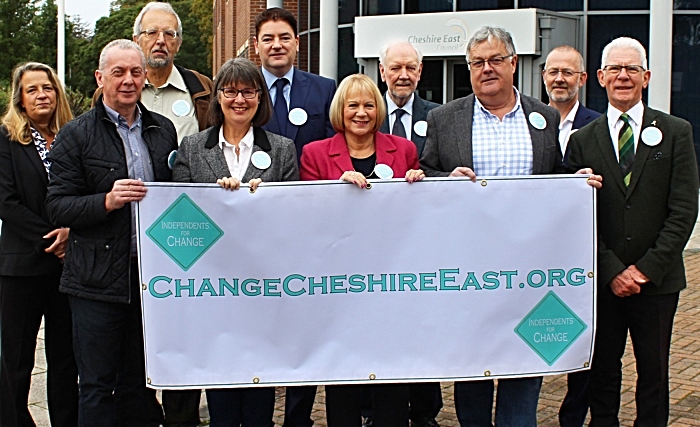 Independent councillors in Nantwich and Crewe are urging MPs to get behind plans to transform the way Cheshire East Council is run ahead of a crucial meeting, writes Stephen Topping.
Members of the Independent group, including Nantwich councillors Arthur Moran and Penny Butterill, have secured a special council meeting on March 5 to debate whether to change from a cabinet system to a committee system.
Now, a letter has been sent to the borough's Conservative MPs Esther McVey, Antoinette Sandbach, Fiona Bruce and David Rutley, and Crewe and Nantwich Labour MP Laura Smith, calling for their support.
Cllr Toni Fox, Residents of Wilmslow member for Dean Row, said: "The committee system used by Crewe and Nantwich, Macclesfield and Congleton councils for decades was very popular, and widely used around the country.
"It is considered to be far more open, transparent and democratic – all attributes which are desperately needed at CEC."
CEC currently has a cabinet including Cllr Rachel Bailey, the council's Conservative leader, and seven councillors who she has appointed from her own party – each with their own responsibility such as health, environment or planning.
In a committee system – which had been used by Cheshire's former borough councils until 2001 – decisions would be made by committees with proportional representation from all CEC's political groups.
In the letter to MPs, the independent group says it has "serious concerns in how CEC is being run" and suggests a committee system would be "more open, transparent and democratic".
It adds: "The current closed-shop cabinet system is bringing this council into disrepute.
"There have been seven police investigations; at least one known public pay-off to the tune of £45,000, senior staff suspensions and numerous independent disciplinary committee investigations, all of which have been dealt with in secret and the findings concealed.
"These issues are having a serious effect not only on confidence, but also on the finances at CEC."
Tory-led councils West Dorset, Fylde and Canterbury recently switched to a committee system.
But Cllr Tony Dean, Conservative member for Knutsford, believes it could mean decisions take too long.
He said: "I am a one-term councillor and have never worked under a committee system, but a lot of people have discussed it with me recently.
"The essence appears to be that the cabinet system allows decisions to made in a more timely fashion, while the committee system gives the feeling of more involvement and more power to more councillors that are on the committees.
"Coming from a business background, I appreciate it takes a long time to make decisions so I prefer the cabinet system. Councillors can still have their say."
Two more motions have also been put forward by the independents and are due to be discussed at next month's meeting.
One calls for scrutiny committees to be chaired by opposition councillors, and another calls for other committees to be chaired by members from all political groups in proportion to CEC's make-up.
It comes after Conservative members on CEC's constitution committee voted down an attempt to consider introducing a committee system and ensure opposition members chaired scrutiny meetings last June.