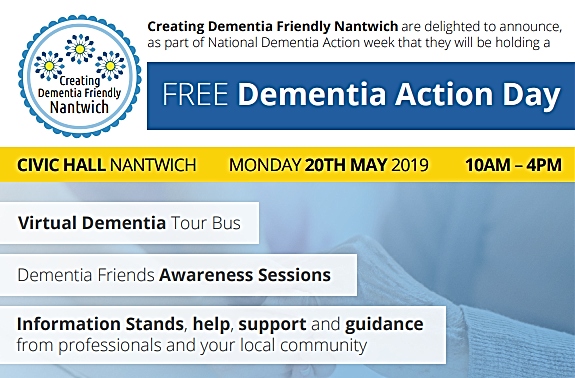 A campaign to tackle stigma and lack of understanding around dementia has been backed by Nantwich businesses and volunteers.
People from care providers, police, churches, Cheshire East Cheshire, Age UK, carers and local patient representatives have formed "Creating Dementia Friendly Nantwich".
And a free Action Day is being planned for Monday May 20 at Nantwich Civic Hall, 10am – 4pm.
Alzheimer's Society's Dementia Friends programme is the biggest ever initiative to change people's perceptions of the condition.
Lynn Lurcock, who chairs the "Creating Dementia Friendly Nantwich", is supported by Rachel Cole, Lynne Griffin and Ben Selby.
Group members are now delivering sessions to people across Nantwich.
Lynn said: "I feel strongly about trying to make a difference to vulnerable people.
"It's easy to get involved. I, along with other group members attended a training course, and receive ongoing support and I'm now proud to be part of a growing network of people creating dementia friendly communities together.
"It touches the lives of so many people across the country.
"Dementia Friends was launched to tackle the stigma and lack of understanding that means many people with the condition experience loneliness and social exclusion.
"It's all about learning more and the small ways you can help.
"From getting in touch with someone you know living with the condition to wearing a Dementia Friends "forget me not" badge with pride, as every action counts.
"Having spent the last year undertaking awareness sessions within the community, with local businesses, schools, banks, shops, public sector, third sector and independent traders, we have started to lay the foundation for building up the general awareness and are now wanting to make more actions count.
"We held a small reminiscence coffee and cake event last year in conjunction with the Nantwich swimming baths and Nantwich Museum.
"We have now progressed to hosting an all-day event at Nantwich Civic Hall on May 20 as part of Dementia Action week, whereby local residents, carers and those living with Dementia along with local businesses can come together for information and support or just a chat over a cup of tea and a cake."
There are more than 850,000 people living with the condition in England.
At the May 20 Action Day there will be a Virtual Dementia Tour Bus, Dementia Friends Awareness Sessions, information stands, help support and guidance from professionals and the Nantwich community.
Tea and coffee will be available on the day.