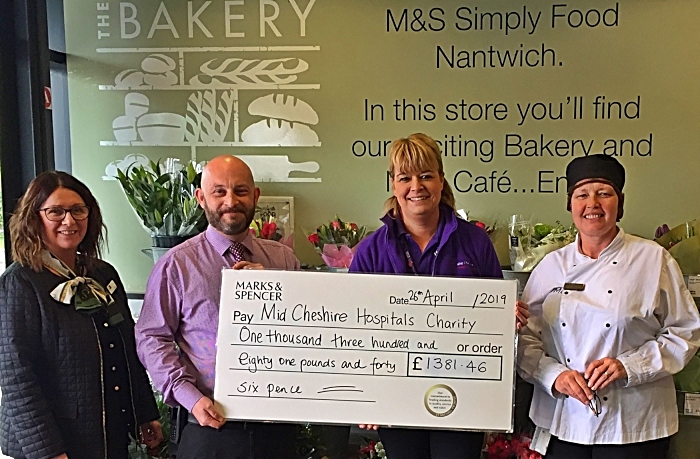 Staff at Marks and Spencer Simply Food in Nantwich have helped to raise more than £1,300 for Mid Cheshire Hospitals dementia appeal.
The team at the Beam Street store chose to support the charity's "Everybody Knows Somebody" as their charity of the year for 2018/2019.
And as well as collection boxes on their till points, which raised over £1,300, they provided staff members to help with various fundraising projects.
They hosted an awareness stand in their coffee shop and provided a range of delicious food items for the charity's hugely successful Fashion and Fizz event held in March 2019.
Ed Fletcher, store manager, said: "We were delighted to be able to support the 'Everybody Knows Somebody' dementia appeal as our Charity of the Year for 2018/2019.
"Our staff and customers really got behind the cause knowing that all the elements of our support would help local people."
Carole Salmon, MCH Charity Community Fundraiser, said: "I'd like to thank Ed and the team for all their support which they enthusiastically embraced in a multitude of ways.
"The money raised will support multiple projects across our hospitals that will improve the care and experience of people living with dementia."
Mid Cheshire Hospitals charity are keen to support more local groups and businesses with their fundraising.
For more information contact Carole Salmon, Community Fundraiser on 01270 273248 or [email protected]
(Pic: Ed Fletcher, M&S Nantwich Simply Food Store Manager with Carole Salmon – Community Fundraiser, and staff members of M&S Nantwich Simply Food)