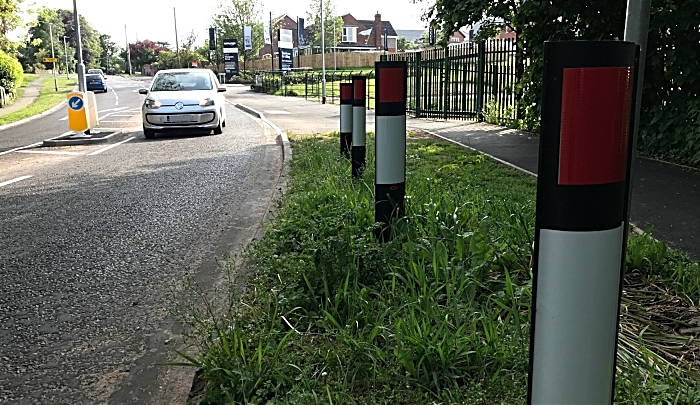 Bungling workmen have placed kerbside warning signs the wrong way around on a busy Wistaston road, writes Jonathan White.
A series of four verge marker posts were installed at Wistaston Hall Bridge on Church Lane as a warning to drivers.
But the work – which Cheshire East Council says was carried out by housing developers – have been incorrectly set up as they face the wrong direction.
The posts have been put in this high-risk location to help traffic avoid a collision with the bridge due to the siting of a new splitter island in the middle of the carriageway.
The island "throws" traffic at the bridge in the direction of Crewe.
The posts should have their red side reflectors facing oncoming traffic to indicate imminent potential danger.
But instead road users only see the white reverse side – with the red side pointing the wrong direction.
The new roadworks took place due the construction of the 300 dwelling Bloor Homes 'Wistaston Brook' housing development and its sole entrance/exit at Teal Way, in preparation for hundreds of additional vehicles into the village.
One Wistaston resident said: "This section of road on Church Lane opposite Teal Way has been cursed with problems since Bloor Homes arrived on site last year.
"There was  a large hole caused by a collapsed sewer, a street light left in the middle of the road, a new splitter island too small for pedestrians and the omission of a zebra crossing.
"This latest mix-up adds to the catalogue of errors linked to "Wistaston Brook."
We revealed last year how workmen had left a street light in the middle of the road after widening the highway and building a new footpath.
Councillor Brian Roberts, Cheshire East Council cabinet member for highways and waste said: "We have contacted the developers, Bloor Homes, about this matter and have insisted that the reflective marker posts are installed correctly as soon as possible.
"The changes to the road at this location rest with the housing developer through a legal agreement with the council.
"This makes the developer responsible for funding and delivering the works in accordance with plans approved by the council and, as such, they will be liable for correcting this error."
(pics by Jonathan White)