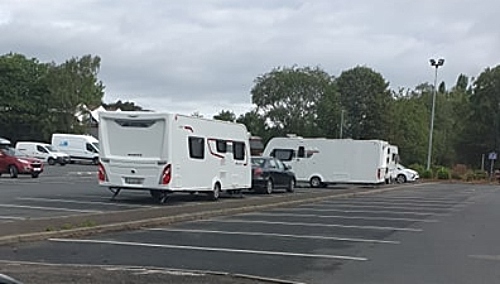 A Section 77 notice has been served on the latest group of travellers to set up an unauthorised encampment on Barony Park in Nantwich, authorities said.
Nantwich Town Council was told tonight (July 11) that the notice means the travellers have to leave by tomorrow evening or face possible court action.
On the same day, travellers also set up an unauthorised camp on Snow Hill car park next to Nantwich Pool (pictured).
A Cheshire East Council spokesperson said: "An unauthorised camp of three caravans at Snow Hill has now left and joined the three caravans and associated vehicles already at Barony Park.
"Cheshire and Warrington Traveller team has visited and carried out welfare assessments.
"A section 77 order was served on the Travellers at Barony Park today (July 12), giving the group until 1pm tomorrow (July 13) to vacate the land.
"Any failure to do so will lead to enforcement action via the courts."
The latest incursion comes as campaign group Friends of Barony Park continue to put pressure on the new Cheshire East Council administration to act to protect the park.
The authority has failed for the past four years to open an official transit site for travellers and gypsies, as required by law.
Cllr Sam Corcoran, Leader of Cheshire East Council, responded by saying a court injunction was being considered, but cited cases elsewhere where it had not been granted.
"I cannot explain why the Council did not apply for an injunction before May.
"If they had done it would have been valid.
"However, we need to take into account the Bromley case and we are seeking legal advice on the implications of the case for any future applications for an injunction.
"We have not ruled out any of the suggestions so far, but none of them so far provide a quick and comprehensive solution."
Campaigners say injunctions have not worked when applied for to be implemented borough wide.
But injunctions which target a more specific hotspot, like Barony Park, have been successful, they say.
A spokeswoman for the group said: "The Bromley case highlighted borough wide injunctions which are not accepted.
"But where we know there are significant issues such as the Barony and we are aware of safety issues, public health risks and rising tensions, then it would be irresponsible to not expedite an injunction at the earliest opportunity, whilst we wait for other measures to be implemented."
Dr Kieran Mullan, Conservative prospective parliamentary candidate, recently called on the authority to apply for a court injunction to cover Barony Park so swifter action can be taken.
He said: "Residents have already been in touch with me as they are understandably concerned and even angry.
"We need to take the short term step of an injunction now until we have physical protection in place as soon as possible.
"There is now cross party support for an injunction. We do not need more talk talk talk.
"We have a new administration, people understand that. But time is ticking on."
Cllr Arthur Moran told Nantwich Town Council that a £2 million investment programme for Everybody Trust, which operates Barony Park and Nantwich Pool, could be approved as early as the end of July.
The programme includes proposals for a barrier around Barony Park.
A public meeting is also due to be held by the town council to discuss the ongoing issues. A date is yet to be agreed.