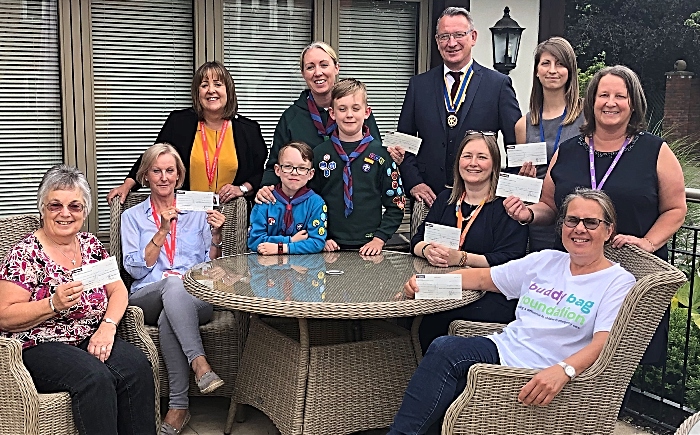 The Rotary Club of Wych-Malbank Nantwich has donated funds raised to seven local causes totalling thousands of pounds.
The club, set up a year ago, formed its own charities "Dream Team" to decide would benefit from any monies raised by the club.
Jo Grubb, member of the team, said: "We all agreed a clear way of choosing who to support was needed.
"Local charities and groups were invited to fill out an application form via our website or social media page which we then discussed before presenting the results."
Representatives from Christians Against Poverty (CAP), Cheshire Young Carers, Home Start Cheshire, the Wishing Well project, Chance, The Buddy Bag Foundation & South West Cheshire 7th Millfields Beavers, Cubs & Scouts were invited to give a short presentation on the work they do.
President John Poulson said: "We have heard both sad and inspiring stories of how these groups were formed and the amazing work that they do.
"We are delighted our donations are going to such good causes including supporting local children and teenagers in caring roles, buying items for "Buddy Bags", helping families living in poverty and buying tents for children to enjoy outside adventures."
"We will continue to raise as much money as possible for local good causes and have already set ourselves a challenging target for the next year."
Details of future events including a Musical Extravaganza on August 31 can be found on the club's website www.wychmalbankrotary.org and Facebook page.
Members will also be at the Nantwich Show on July 31 where they can be found in the Richmond Village Vintage Tea Tent.