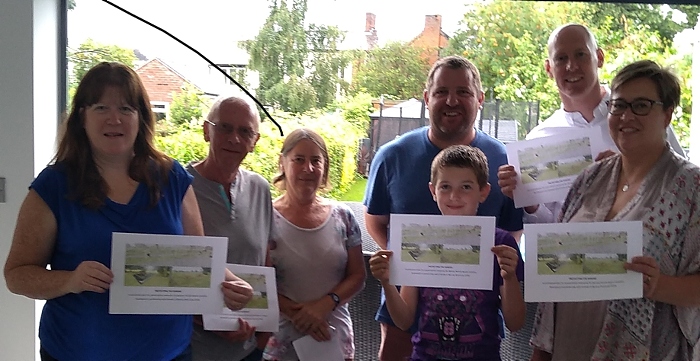 Campaigners have drafted a 36-page report on how to protect Barony Park in Nantwich as residents witnessed the ninth unauthorised traveller encampment at the weekend.
Friends of Barony Park group are teaming up with local businesses and Conservative MP candidate Kieran Mullan.
They aim to present their detailed plan to Cheshire East Council in a bid to prompt swifter action to protect the park.
The plan includes a series of preventative measures in parts of the perimeter of the park which are vulnerable to unauthorised vehicles gaining access.
This year has seen a sharp rise in the number of unauthorised encampments as Cheshire East Council has failed to provide an official transit site for travellers for the past four years.
Dr Mullan said he has worked with Friends of Barony Park to map out the gaps in the perimeter and propose solutions.
These include creating community flower beds, outdoor gym equipment, picnic area with the first picnic tables on the Barony, a wildlife area and orchard, low fencing and large boulders.
The plans also include two access points with foldable bollards allowing vehicles to come onto the Barony for events and emergency services.
A spokesperson for Friends of Barony Park said: "We have tried our best to come up with ideas that will work for everyone.
"That way we can improve what residents get from the Barony at the same time as solving a problem.
"We encourage everyone to show their support."
Nantwich resident Nick Kennedy installs preventative measures at sites across the region as part of his job and provided advice on these provisional plans.
He added: "I know from my day job that this is deliverable and can work.
"Barriers don't have to be literal fences. You can do so much better with some imagination."
Dr Mullan added: "These plans actually are turning a difficult situation into a positive.
"I know I won't be alone in wanting to use outdoor gym equipment!
"I also think local schools would be able to get a lot out of an area where wild flowers and other diverse habitats are encouraged.
"Schools could also help with the planting of the community garden.
"I would encourage Cheshire East to look at these proposals as a starting point and help Friends of Barony Park to get them implemented. This is putting something onto the table to help make progress."
Friends of Barony Park and Dr Mullan are now encouraging all residents to look at the plans and provide feedback as well as seeking support from local businesses that might want to provide sponsorship or materials.
"There might be other even better ideas out there so we want to hear from people," added Dr Mullan.
"We also want ideas for Coronation Gardens. But if you just want to show your support for the plans that is also welcome.
"I know a lot of residents just want something done. We also want to hear from any business that wants to help turn these plans into reality.
"We can't compel Cheshire East to act, and I still believe we should get a court injunction in the meantime.
"But if we can show that the community has been able to input into these plans and they have their support we will be in the strongest possible position to get action."
Residents can view the full 36-page plans  and give feedback online https://www.drkieranmullan.org.uk/news/provisional-plan-barony-published
The plans are being shared with Cheshire East Council, Nantwich Town Council and Everybody Leisure.
We have contacted Cheshire East Council for a statement.
(Pic, top: Members of Friends of Barony Park including Nick Kennedy and Dr Kieran Mullan)