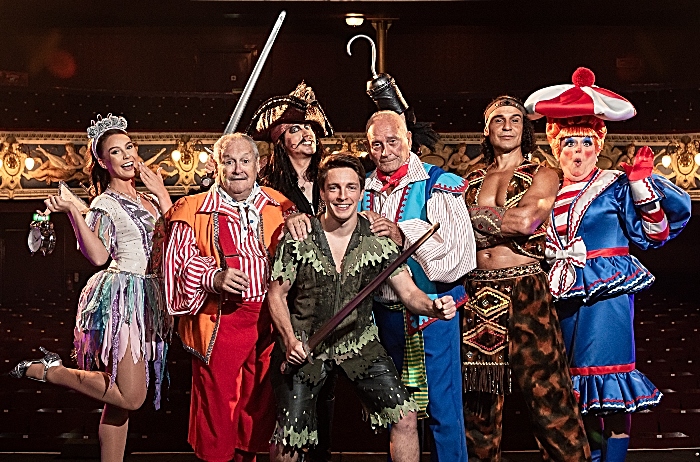 Peter Pan has flown into the Lyceum this Christmas for a high-flying swashbuckling adventure, writes Claire Faulkner.
Presented by Qdos Entertainment and directed by David Fleeshman, this fun-filled show is a traditional pantomime which the whole family can enjoy.
There is music, dancing and of course lots, and lots of laughter.
Returning to Crewe are comedy legends Cannon and Ball, both gave great performances throughout the show and the audience loved them.
X Factor finalist Chico let us all know it was party time with some fantastic song and dance routines.
The live music sounded wonderful and added to the amazing atmosphere in the theatre.
The cast were also joined on stage by members of the YSD Theatre School who did a brilliant job.
Panto wouldn't be the same without a Dame, and Malcolm Lord as Mrs Smee is one of the best.
Stefan Pejic was brilliant as the super baddy Captain Hook.
Highlights of the show for me included the 'Mastermind' sketch with Cannon and Ball, and the mermaid song and dance routine with Mrs Smee and Captain Hook, which was just brilliant.
The rest of the cast did a great job.
Joshua Wyatt flew around the stage as Peter Pan, and the younger members of the audience fell in love with Danielle Lockwood as Tinker Bell.
The entire show including set design, costume and lighting has been produced to an incredibly high standard, and everyone behind the scenes at The Lyceum and Qdos should be commended for their hard work.
What I love most about panto is the way it makes people laugh, and this show really did bring out smiles and laughter on Saturday night.
It was a great night out, I loved it.
If you need a bit of magic in your life, follow the fairy dust to the Lyceum where you can catch Peter Pan until Sunday 5th January.
(Images by Wes Webster Photography)