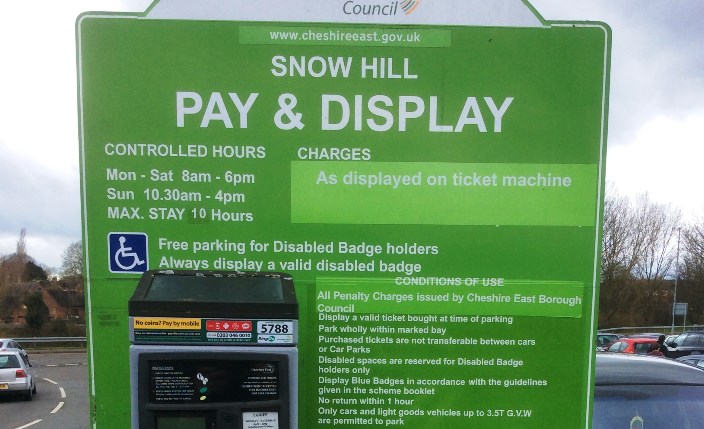 A Cheshire East Council executive has denied claims next year's budget is a 'blank cheque' for raising car parking charges across Cheshire East.
Draft budget plans for 2020-21 that went out to public consultation said Cheshire East Council hopes to rake in up to £4.5 million by the end of 2023-24 after a review on car parking.
Cllr Arthur Moran, independent member for Nantwich North and West, told a scrutiny meeting the proposal "really does worry me".
"It says here that the council's priorities are to improve the environment and viability of the borough's towns," he said.
"Well I can tell you now – by having the highest car parking charges in Crewe and Nantwich, that is not helping the viability of those particular towns.
"If Nantwich has to pay, then everybody should pay.
"I don't necessarily agree with free parking, but I do agree with a reasonable tariff.
"This is the biggest blank cheque that you will put through, councillors, if you vote for this on full council day."
CEC members approved a five-year local transport plan last October, which hinted at new charges – including fees for parking on Sundays and at evenings in towns where there is a thriving night-time economy.
It is expected the council will review car parking in each of its towns over the next year – while CEC will also spend £350,000 on new pay and display machines in 2020-21.
Cllr Sam Corcoran, CEC's Labour leader, told the Local Democracy Reporting Service in November that "some prices will go up, some will remain the same, and there may be towns where prices drop".
Commenting on the plans to raise more cash from parking, Cllr Rod Fletcher, leader of CEC's Liberal Democrat group, said: "Are these figures compatible with reducing car parking charges in places like Crewe, Nantwich and Macclesfield?"
Frank Jordan, executive director of place at CEC, told the corporate overview and scrutiny committee "it should not be read that every tariff will be automatically increased".
"I think the point has been well made that there is variability in places across the borough," he said.
"Clearly, we need to review those tariffs and base those tariffs on what type of aims we want to drive.
"So we may want to reduce tariffs in some parts of the borough because we want to encourage footfall, to support economic generation.
"We may want to increase in other parts because we want to discourage [car use] with our environmental agenda. For that reason it requires a fundamental review."
Consultation on CEC's budget plans for 2020-21 ended on Monday, and councillors are expected to sign off the final proposals at the full council meeting on February 20.