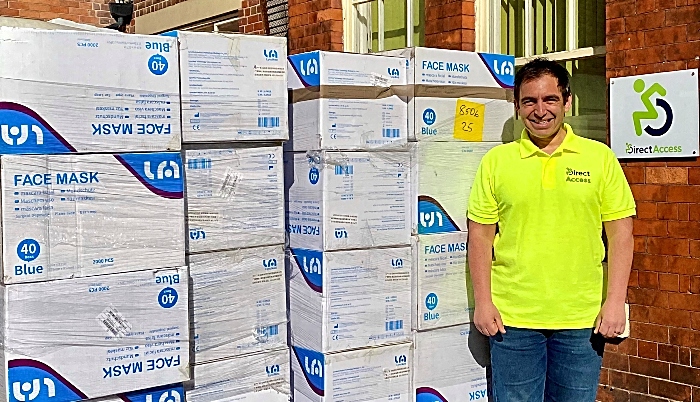 Nantwich firm Direct Access has sourced millions of items of Personal Protective Equipment to help local authorities, care homes and disability organisations fighting the COVID-19 pandemic.
Steven Mifsud, boss of the disability access consultancy, based at Regents Centre off London Road, says they have used international contacts to bring supplies to the UK.
The company, which has won exporting awards for its work increasing access for disabled people, has already supplied many local care homes and disability charities with the kit.
Since the start of the pandemic, it has been supplying organisations which do not have access to NHS supplies.
Local authorities are also turning to Direct Access to meet their PPE needs.
Care homes across Cheshire that are struggling to access kit can contact the company to obtain key supplies.
Director Mr Mifsud said: "It was clear that independent organisations and homes without the resources of large groups could not afford the minimum order requirements manufacturers are insisting on.
"We have been able to source large orders with a new delivery of vital Surgical Type II masks arriving this week.
"We are able to split these large orders into smaller packages that are more suitable for local care homes and disability organisations.
"By providing vital supplies Direct Access has also maintained employment opportunities for local disabled people.
"We are fortunate that we have not had to furlough staff or indeed shut down operations."
Direct Access hit national headlines back in March after Nantwich News revealed it had offered 5,000 life-saving ventilators to the UK Government, but its offer was ignored.
This was followed two days later with an offer of 50 million self-test COVID-19 kits, again an offer which was rejected by the Government at a time when UK was short of supplies.
The Cabinet Office at the time "apologised" for its slow response to offers.
In previous work, Direct Access was instrumental in working with Virgin to introduce the first quiet space for autistic travellers on the UK rail network at Crewe and worked with local schools, dental practices and GP surgeries.
For the past year, it has supplied and installed accessibility equipment.
The ancillary aids enable organisations to be more inclusive ranging from hearing induction loops to assist those with a hearing loss in communication to evacuation chairs to assist people with limited mobility during an emergency.
(Pic: Steven Mifsud with 100,000 surgical masks at the Nantwich office)