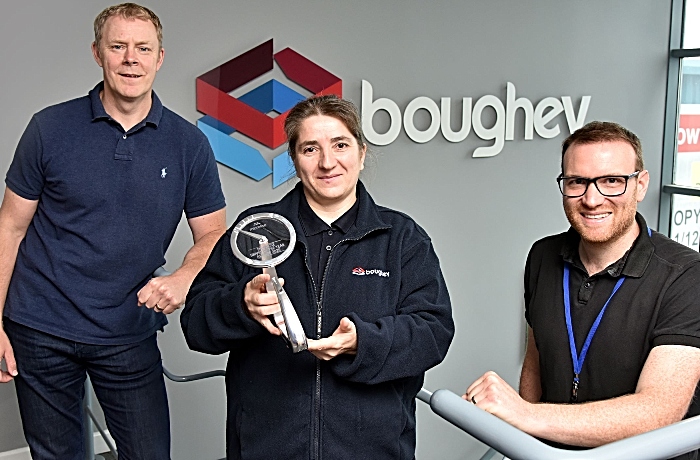 Nantwich-based Boughey Distribution driver Dimka Ivanova has driven to success as UK's number one!
Dimka has been named "Most Improved Driver" in the premier HGV driver awards which recognise outstanding driver performance and excellence.
Judges selected Dimka, who only joined Boughey just over a year ago, saying she had demonstrated a 100% improvement in driving performance – making her a worthy winner of the Most Improved Driver Award for 2020.
In the award submission made by Boughey, Dimka was praised for delivering a level of improved fuel usage that is exceptional for a day driver.
She was described by colleagues as representing all that is good about 21st century drivers and was noted for being conscientious, calm, and for taking everything in her stride.
The submission highlighted that Dimka "always works to the best of her ability" and "listens to advice and acts on it".
She also makes full use of the flexibility of a driving career to suit her lifestyle and family and childcare needs.
Microlise received more entries than ever before for their nationwide awards from an initial eligible pool of over 225,000 drivers.
They said the 2020 winners were the real stars in the industry, having triumphed after a process of rigorous data analysis, corroboration by employers and assessment by an independent judging panel.
The nominees entered into the Most Improved Driver Award were judged on their driving performance over the last twelve months, specific achievements in their work, the positive impact they've had on the businesses they work for and also their characters.
Dimka was shortlisted with two other candidates from the initial entries.
Executive Director of Microlise, Bob Harbey said: "The standard of entries was outstanding and a true credit to all those nominated.
"All of our shortlisted drivers would have been worthy winners and we particularly enjoy reading about the younger drivers who are excelling in what is a relatively new career.
"Although for many, it has taken a global crisis to highlight the critical role of drivers, we remain committed to recognising the most inspiring drivers who perform their role with such enthusiasm, commitment and expertise."
Because this year's awards' ceremony was cancelled due to Covid-19, Dimka received her award from Boughey's Transport Operations Director Neil Trotter.
Dimka said: "Although I have won the award, without a great team behind me, I wouldn't be able to do my job well.
"They have made me what I am as a driver. There is a very good culture here at Boughey and that really matters to me."
Neil Trotter added: "We are very proud to have Dimka flying the flag for our company.
"To win an award of this magnitude and on a national stage is a really special achievement.
"Her colleagues were unanimous in their praise for both her ability and her positive character and she deserves to be recognised."
Dimka lives in Winsford and her husband is also a driver with Boughey.
As part of her prize, she will be invited to attend a Porsche track day driving experience.