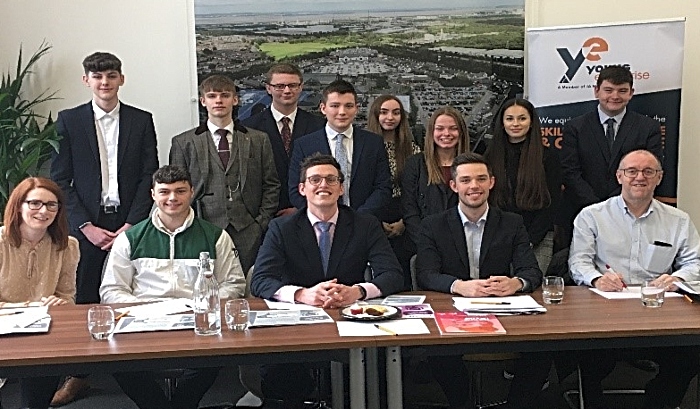 A team of budding entrepreneurs at Cheshire College – South & West beat off many strong challengers at this year's Young Enterprise Competition.
They won the "Best Presentation" category as well as being awarded runner up in the "Company of the Year" category.
The UK-wide competition is organised by the Young Enterprise charity and involved learners setting up and running their own company.
More than 7,000 schools and colleges entered with 13,700 learners taking part.
The teams have to make decisions about their business, from deciding on a company name and product, to creating a business plan, managing their finances and selling their products.
The work started at the beginning of the academic year when Seeds 'n' Stuff came together and decided on their product.
It is an eco-friendly memorial cross built with seeds, which over time would grow into wild flowers, designed to comfort people missing loved ones and suitable for all ages.
The Covid-19 pandemic did not stop BTEC Business learners studying at the college's Crewe Campus.
As the final stages of the competition moved to digital, so did they.
Team Seeds 'n' Stuff continued to meet, innovate and problem solve, via their virtual learning environments.
One of the team Olga Kubalewska, 16, from Crewe, won the prestigious 'Student of the Year' Award for her passion, dedication and leadership skills.
Olga said: "The Young Enterprise Competition has been an extremely fun and enriching experience – I have learnt so much.
"Continuing the competition through such unprecedented circumstances, we have been able to develop a sense of resilience that I am sure we will maintain as we progress with our next steps.
"I am really looking forward to celebrating with the team, at the awards presentation, once it is safe to do so.
"I want to give a huge thanks to the lecturers at the college and our business advisor, Angelo Apa,
"Global Head of Enterprise Vendor Management, Exteris, for of the time they have invested to support us throughout this journey."
For details on Cheshire College – South & West visit www.ccsw.ac.uk