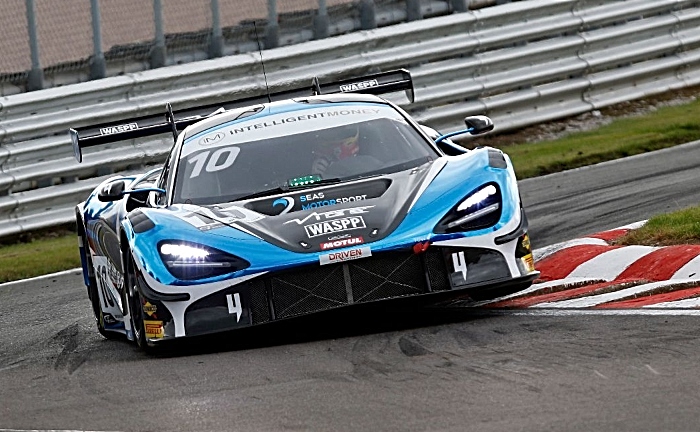 Nantwich racing driver Jordan Witt celebrated a Silver Cup class podium finish on home soil at Oulton Park in the opening weekend of the Intelligent Money British GT Championship season.
And it could have been more for the 29-year-old who along with 2 Seas Motorsport team-mate Jack Mitchell, looked certain to take an outright victory in race one.
But an unfortunate penalty relating to the mid-race pit-stop cost the duo a dream start to the 2020 season.
Witt only missed out on overall pole for round one by 0.001 seconds – the closest ever qualifying result in the history of the British GT Championship.
Ending the first encounter in 12th place, sixth in Silver, Witt and Mitchell took third in Silver and fourth overall in round two which concluded under Safety Car conditions following a multi-car incident.
Although there was obvious disappointment from race one, Witt was very happy with his debut event.
He said: "We were so quick, in the second race without the Safety Car being on track for so long I know we could have challenged for the win.
"Obviously the outcome of race one was disappointing, so frustrating to lose a win, but it's done now and there's nothing anyone can do.
"It's part of what happens in racing sometimes.
"All of the preparation we did was good and in qualifying we were so close to being on pole for the first race.
"I'm so impressed with the 2 Seas Motorsport guys, for a new team everything works so well and it's mega professional. Big thank you to everyone for doing a fantastic job this weekend."
Rounds three and four of the British GT Championship season will take place at Donington Park Grand Prix Circuit in Leicestershire over the weekend August 15-16.
2020 British GT Championship 'Silver Cup' Driver Standings
5th Jordan Witt/Jack Mitchell, 23pts
2020 British GT Championship GT3 Driver Standings
7th Jordan Witt/Jack Mitchell, 12pts
(Copyright free images for editorial use courtesy SRO/JEP)