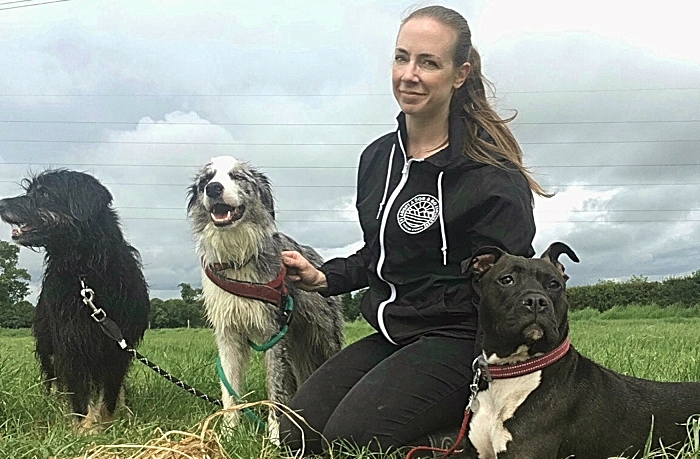 A woman who runs a dog walking business has launched a new project to tackle the scourge of dog fouling in Nantwich.
Emma Caskie, who runs HoundClub Pet Services, hopes her community project will ease the dog mess problems in the town as well as encourage people to shop in dog friendly shops in the town.
She used her time during lockdown to create dog poo bag holders using recycled bottles and is installing them at various points around Nantwich.
She hopes it will help remind those who have dogs, and also encourage responsible owners to add their own empty bags for others to use.
Emma said: "As a professional dog walker I see so many people walking their dogs and not cleaning up after them.
"For such a dog friendly community, it is really sad that a few irresponsible owners or walkers are not picking up after their dogs.
"During Covid and people working more from home, there has been an increase of people out with their dogs exploring the local area which is great.
"But unless everyone is a responsible owner/walker the mess situation will only get worse.
"I wanted to try and help the situation rather than just comment on a Facebook page.
"So I created some poo bag dispensers and have located multiples of them at various areas of the town."
Emma has placed them at popular walking spots including Barony Park, Nantwich lake, Queens Drive park, along the canal, and the fields by Nantwich swimming pool.
"I hope it encourages people not only to pick up after their dogs, but to bin it as well not just leave the bag in a tree or in a hedge which is damaging to the environment and an eyesore for the town."
Emma, from Leighton, offers walking, pet care for all pets and bespoke wedding pet chaperone services in the local area.
She has a degree in Animal behaviour and welfare, and more than 25 years working with rescue dogs.
She has also sponsored 'dog friendly' window stickers for Nantwich shops to display free of charge and will be creating a dog friendly directory.
"With the stickers I wanted to try and support small business as lockdown affected everyone," she added.
"I came up with the idea to create a directory of dog friendly places in the town and supply them with free window stickers to display to encourage people and their dogs to get back to support local as soon as we were able to.
"I posted it in the community Facebook page and it was really well received.
"Stickers arrived recently so will be distributed to those business that contacted me.
"The scheme is open to any business that would like one and the dog friendly business will be listed on my social media @houndclubpets
"Nantwich is such a dog friendly community and I hope these two things will help continue that feeling."