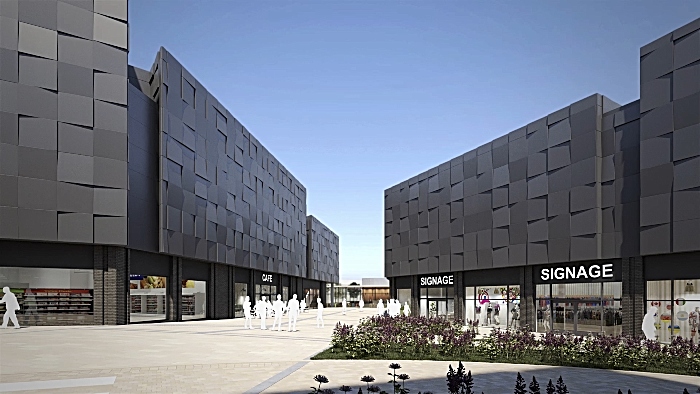 A development agreement between Cheshire East Council and Peveril Securities Ltd marks a big step forward in Crewe's transformation of the Royal Arcade site, council chiefs say.
The agreement will pave the way for planning applications for the scheme to be submitted.
It follows an announcement earlier this month regarding demolition works at the Royal Arcade site, which will begin later this month.
Cllr Nick Mannion, Cheshire East Council cabinet member for environment and regeneration, said: "The development agreement is the latest step in what is an exciting programme of regeneration for Crewe.
"We appreciate that the current pandemic has brought uncertain times for all of us, but this news not only shows our shared vision for the regeneration of Crewe town centre, it also shows our commitment to rebuilding the local economy."
The Royal Arcade scheme will include a new bus station with an enclosed passenger waiting area, a 400-space multi-storey car park and leisure, restaurant and retail units anchored by a new state-of-the-art cinema.
Cllr Mannion added: "The council and Peveril Securities Ltd have listened to local councillors and members of the recently established Crewe Town Board, to identify how the new bus station and multi-storey car park can be built as soon as possible.
"A planning application is now expected to be submitted in spring next year, with a partially completed bus station expected to be in place by summer 2022, with the plan to deliver the full facility and new car park in spring 2023.
"This scheme builds on recent successes seen in the town.
"It is also linked with other projects in the pipeline, which the council is bringing forward with the support and involvement of many partners that are working hard to develop Crewe into a town that residents can be proud of."
William Warrack, a director of Cordwell Property Ltd, development managers for Peveril Securities Ltd said: "How good it is in the middle of this pandemic to be involved in a scheme that is now starting on site with the commencement of demolition in preparation for the construction of the new Bus Interchange and Multi Storey Car Park in the first £15 million phase of investment in Crewe town centre.
"We are looking forward to working with Cheshire East Council to bringing this long-awaited project to fruition and to the second £30 million phase of a leisure and retail complex which is designed to bring back vitality to the town centre."
Crewe and Nantwich MP Dr Kieran Mullan MP has welcomed the news, adding: "This means we know that whatever happens, people in Crewe finally see progress.
"It is great the developer remains confident in the commercial side of things though, it shows yet again what potential Crewe has.
"But I and other Crewe Town Board members wanted a deal that put the needs of Crewe residents first.
"We are going to carry on building on this success and others we have had with the Lyceum Square funding and the market reopening to build a really bright future for Crewe. Watch this space."
Demolition works at the Royal Arcade site will start to take place in mid-October.
Other schemes to transform the town centre include:
· £750,000 of accelerated funding from the Towns Fund to improve Lyceum Square in a project named 'Ly2'
· A new operator to manage Crewe markets for the next five years, including the refurbished Crewe Market Hall, ahead of its anticipated opening next year
· Crewe Town Council funding from Architectural Heritage Fund to employ a heritage project officer for Crewe