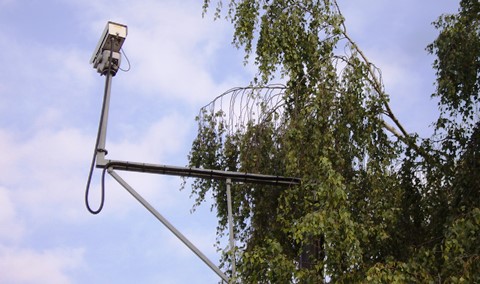 A councillor has called for increased CCTV coverage of Nantwich town centre as another labelled it a "frightening place to be" after dark.
Cllr Stephanie Wedgwood said certain parts of the town needed increased security after reports of anti-social behaviour by groups of younger people.
This includes CCTV close to the railway station and on Love Lane car park, Nantwich Town Council was told.
"How often is CCTV being reviewed?" she said. "It's come to my attention that some of it is not working at all.
"I know there is anti-social behaviour most nights in and around the railway station."
Other councillors backed her motion, with Cllr Stuart Bostock calling the town centre "frightening".
He said: "I walk around during hours of darkness with my dogs, and it is a frightening town after dark from 9pm.
"We need blanket coverage especially around the town centre. It is a frightening place with the present restrictions, it is not a nice town to walk through at night."
Cllr Bostock also said police presence in the town at that time was sometimes "abysmal"
"There is no one there, you can't get through to someone to talk to because it is not a manned station," he added.
"We need to look at the police presence in the town when it is most needed."
Cllr Peter Groves said there were also reports of problems on Love Lane car park.
"Over last month I've had complaints about this as well as people gathering in cars on Shrewbridge Road, revving engines and speeding.
"I very much support the motion by Cllr Wedgwood."
One idea discussed is to bring in temporary CCTV cameras targeting certain "hotspots".
Cllr John Statham said some of the infrastructure for CCTV coverage on Love Lane was already in place, but it will still cost £7,500 to set up.
"CCTV on station platforms should be a Transport for Wales responsibility to cover that area," he added.
"There is also a problem with lighting in the town. Many have said it is very dimly lit. Last winter I walked around and found 25-30 streetlights not working," he added.
"It's one thing having more CCTV, but another if we can't see what we are looking at. We need to take this up with Cheshire East Council."
Town clerk Samantha Roberts said she would bring more information back on costs, locations and other options such as temporary cameras.
"The CCTV manager has been excellent and responsive in initial discussions," she said.