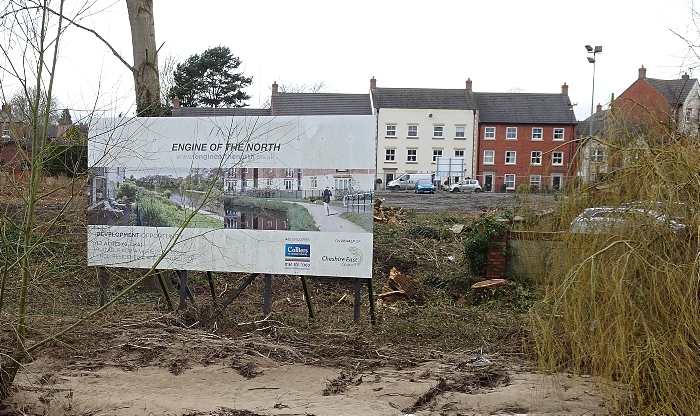 Work has started on a major project to open a new "Cultural Quarter" in Nantwich including a boutique hotel, artisan shops, restaurants and apartments.
Vegetation and trees have been cleared off the former gasworks site on St Anne's Lane to allow for a six-month clean up of contaminated land.
In an interview with Nantwich News, developers Vision for Nantwich Ltd said the whole Wych House Bank project could be built and open by spring 2024.
Residents aired concerns on social media about the clearance of the site last week, fearing protected trees and wildlife could have been affected.
But developers said today no trees with TPOs or existing bird nesting areas were damaged.
"It was mostly sucker trees which had to be felled to remediate the contaminated land which will be done by bio remediation on site to limit any spoils being taken off site to landfill," said a spokesman.
"There will also be extensive planting of specimen trees to further enhance the area once the build is complete, with a large amount of public amenity space and pedestrianised river frontage."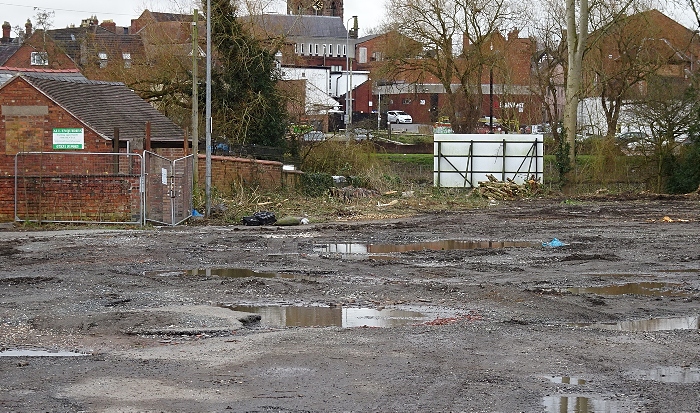 They also said fears of flooding on the site were being addressed, and said the flood wall and soil banks will be built up and supported by gabions along the riverbank.
Over the next six to eight months, specialist land clean-up teams will work to decontaminate the land on site.
Foundations will be laid and building work is expected to start in spring 2022 on a 20-bed boutique hotel, four restaurant units, up to 10 small artisan shop units and 28 apartments with a 60-space car park.
There will also be a "fisherman's walk" to the rear of the old bakery off Wych House Bank for local fishermen to have direct access to the riverbank.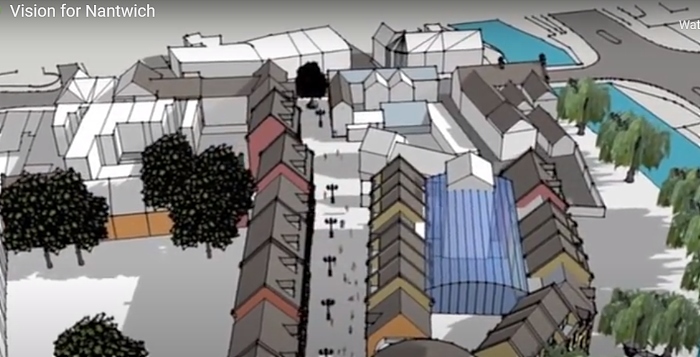 "This is something we are keen on implementing to maintain this historic fishing area," said the spokesman.
There will be a new 3m wide public footpath with disabled access by the side of St Anne's Lane to access the bridge over the River Weaver.
Agents are already in talks with chains about opening new restaurants. Well-known chains such as Prezzo and PizzaExpress have been linke.
"We're offering something different and don't intend to take trade away from the town centre," said the spokesman.
"The artisan shops will include things such as bakers and woodmakers. There may be a convenience store as this side of the town doesn't have one.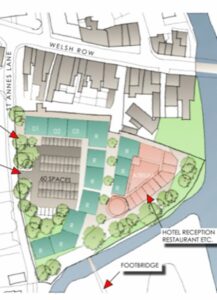 "We hope there will be a bounce back in the economy from 2022 after this pandemic. Nantwich has grown quite a bit in recent years and there is a need for this sort of development.
"We know there are people who will never be happy, and we've seen negative comments about removing a free car park.
"But the site was never supposed to be a car park, it was waste land which the council should have fenced off. It's an eyesore, and we're bringing something new and exciting to the town.
"If people want to park, the Weaver Stadium has plenty of excellent and cheap all day parking not far away.
"This project has been over five years in the making and will provide much-needed recreational space for all the new housing that has taken place and of course for the existing townspeople of Nantwich."
A new, wider pedestrian access to the development will also be created on Wych House Bank off Welsh Row by demolishing the building currently housing a Thai restaurant.
Vision For Nantwich Ltd has posted a video illustrating how the "Cultural Quarter" could look when completed.
(Site images courtesy of Jonathan White)