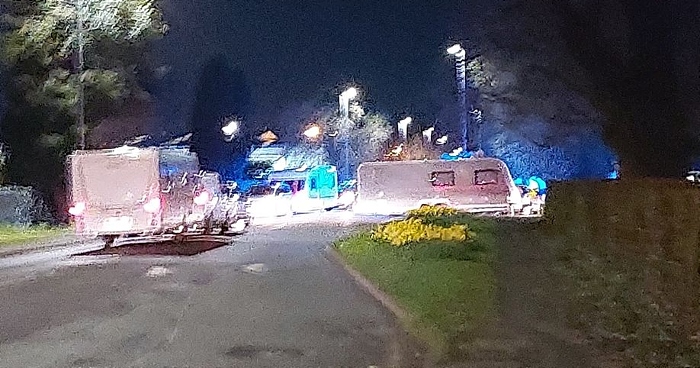 Council and police chiefs need to take immediate action against travellers who breached a court injunction and broke on to Barony Park in Nantwich, said MP Kieran Mullan.
According to residents, travellers broke through the new park perimeter fencing and gained access to the park via Middlewich Road earlier this evening (March 29).
Police officers arrived at the park later to prevent more travellers gaining access, said witnesses.
These images from Nantwich News readers show travellers backing up on Middlewich Road.
As we reported, campaigners and council chiefs secured a High Court injunction in August last year to prevent future unauthorised encampments on the park.
The injunction bans the siting of a caravan or mobile home for a period of longer than four hours without permission.
If ordered to remove the caravan or mobile home, the owner would have to move off the land within four hours or be in contempt of court, which could result in arrest.

Tonight, Crewe & Nantwich MP Dr Mullan said: "Both Cheshire East and the Police now have the power to act.
"Criminal damage has occurred and the injunction has been breached.
"Both the fence and the injunction were only ever going to be tools that allow both to act quickly and will only make a difference long term if they are used.
"That is what will stop people turning up, when they know it isn't going to be worth their while.
"Cheshire East and the police now have to deliver.
"One of the big issues in the police powers to act need the landowner to first attend and ask people to leave.
"Again and again Friends of Barony Park and I have asked Cheshire East to organise an out of hours response and they haven't.
"So the police are going to have to wait until the morning for Cheshire East."
A spokesperson for Cheshire East Council said: "We can confirm that there is an unauthorised Traveller encampment at Barony Park.
"An officer from the Cheshire and Warrington Gypsy and Traveller Liaison team will attend the site today (March 30), alongside Cheshire police, to advice the group of the court injunction in place and their legal obligation to move on."
The injunction and fencing secured last year came after several years of unauthorised encampments on the park which angered local residents and park users.