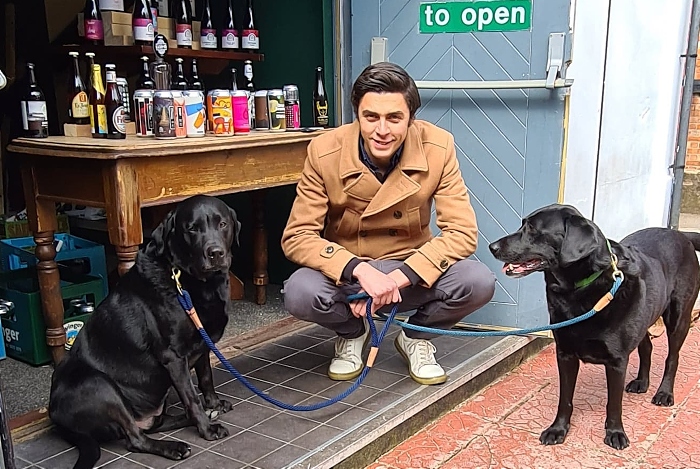 A new Facebook group called 'Dog friendly shops in Nantwich and surrounding areas' has been set up to help prevent dogs being left outside and at risk from thieves.
It comes after the high-profile case of Denzel and Welly, two black Labradors stolen from outside M&S on Beam Street in Nantwich on March 27.
Dale Robson's beloved pets were eventually traced to a house in Stoke-on-Trent by police after huge publicity went national. Three people have been charged with theft.
The demand for dogs has soared throughout the pandemic, meaning costs have sky-rocketed as demand outweighs supply.
The 'Dog friendly shops in Nantwich and surrounding areas' group has already signed up more than 2,000 members.
Members can post a photo and the details of local dog friendly business premises.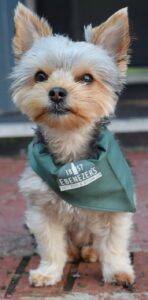 James Bucknall, 'Dog friendly shops in Nantwich and surrounding areas' Facebook group, said: "I started the group as I had just cheekily asked one of the local corner shops if it was okay to bring my own dog into the store.
"I needed to just grab some essentials and did not want to take the dog home to walk back again.
"I had heard the recent terrible news about the two dogs being taken in Nantwich.
"It made me think it would be good for people to know where they can just pop in for some bits whilst taking their dogs for a walk.
"So, I started asking shopkeepers and when they agreed I took a picture and posted it into the group.
"The support for the group has been brilliant and I am now looking for helpers in other areas – Crewe, Sandbach, Haslington etc – to do the same and add into the group.
"It only takes a second to ask shopkeepers, so even if just having a look around a shop if people ask the question its really helpful.
"There is a lot of dog theft around and if people know they have an alternative choice of where to shop safely with their pets, it will hopefully prevent more dogs being taken in the future.
"I'm looking to increase this work covering other areas around the UK and I am in the process of setting up a website – dogfriendlyshops.co.uk – to centralise it all where you can view by your area."
Denise Lawson, Nantwich Bookshop & Coffee Lounge (High St, Nantwich), said: "About six years ago we collected our beautiful Staffie, Lola, from a rescue centre.
"We would only ever have a pet dog if we could be sure that she had someone with her all the time.
"With this in mind we decided to make our shop dog friendly.
"Probably one of the best business moves we ever made.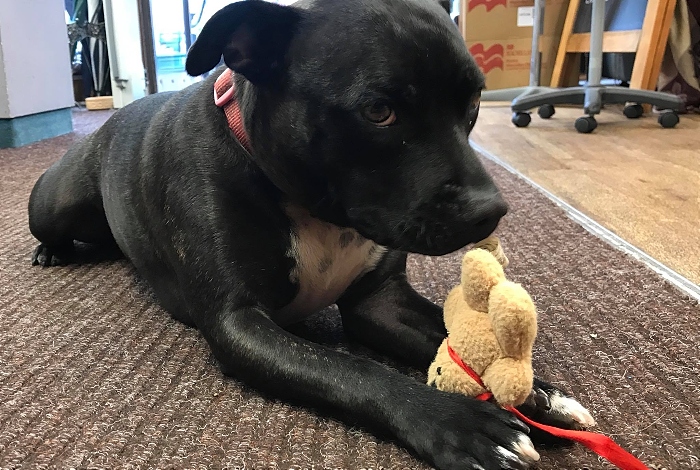 "It changed the atmosphere on the ground floor completely.
"Not only do dog owners love coming in to relax and enjoy their food and drink, but we have other customers who would love a dog and can't have one for whatever reason coming into the shop just because we allow dogs.
"A lot of the time complete strangers at different tables strike up conversations and it's lovely to see the friendliness in the shop created by our furry friends being able to come in.
"We do have the upstairs area of the Coffeeshop that is out of bounds for dogs, so anyone not wanting to sit with dogs whilst having a drink and /or something to eat have the dog free sanctuary upstairs.
"I think having this Dog Friendly Shops Facebook page is going to be a real asset to the shops of Nantwich.
"It has certainly opened my eyes to how many shops in Nantwich are dog friendly. What a marvellous town we have."
Nicholas Warren, Ebenezer's Craft Beer & Gin (Castle St, Nantwich), said: "We're all dog lovers here at Ebenezer's, it brightens up our day having a visit from them.
"We know so many little characters around Nantwich. We're just as happy to see them as we are our customers.
"We provide water for dogs and pre-Covid had complimentary treats available in the bar."
The Dogs Trust is telling pet owners to remember to keep their dog "safe, spottable and searchable".
Useful advice offered by the charity is to keep your dog's microchip up to date; ensure your dog is wearing a collar with your name, phone number and address on it; secure your home and garden; keep your dog in sight when they're off the lead; refresh your recall training; never leave your dog alone in public or in a car; walk in well-lit areas; vary your routes and stay vigilant; and walk your dog on a shorter lead, and away from the roadside.
(Words and images by Jonathan White)