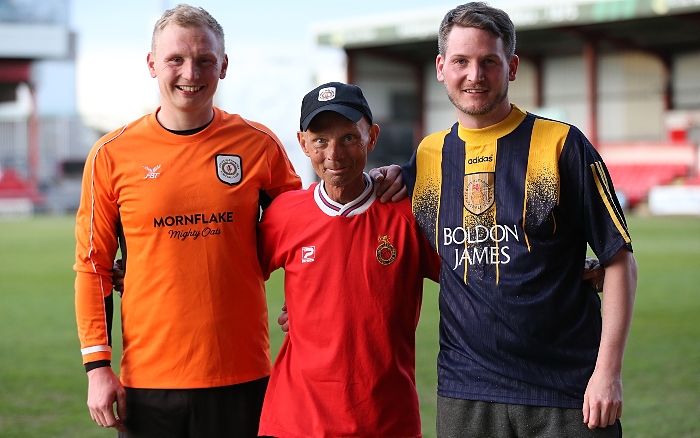 A charity football match at Crewe Alexandra has helped raise vital funds for The Christie cancer centre, writes Jonathan White.
The match was organised by Crewe Alex FC stadium announcer and lifelong fan, Andrew Scoffin, who is fighting cancer for the second time in 11 years.
He was a patient at The Christie for several months in 2009/10 and has been a Christie patient again since last year.
Players paid at least £25 each to play on the hallowed turf with the game consisting of 30 minutes each way.
The game raised more than £4,500 which far exceeded the original target amount.
Andrew kicked off the action with the first touch from the centre circle.
In a tightly fought game played in great spirit the final score was Red Alex Shirts 0-4 Alex Away Shirts with the Alex Away Shirts goals from Ben Gilbert, Matt Johnson, Gavin McKeith, and James Dodd.
Andrew said: "A big thank you to Crewe Alexandra for their support and use of the pitch, many Crewe fans realised a longstanding dream by playing on the Gresty Road pitch.
"Thank you to all the many donators – both players and non players."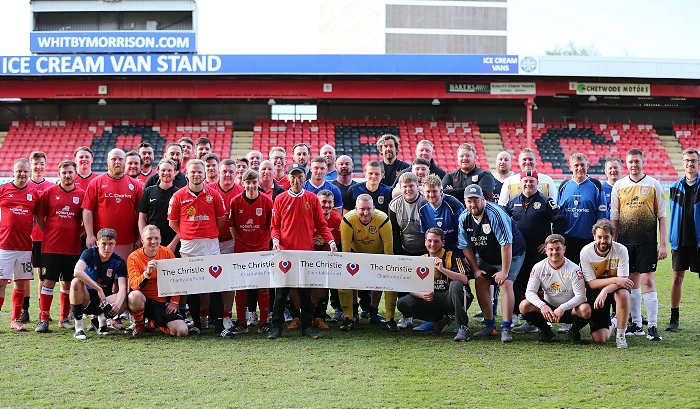 Teams were split into 'Red Alex Shirts past & present' and 'Alex Away Shirts past & present' and were captained by Andrew Scoffin's sons, Ashley and Warren respectively.
The Red Alex Shirts team consisted of Ashley Scoffin (captain, goalkeeper), Tony Shaw, Alan Welsh, Garth Kent, Zach Homer, Andrew Bradley, Jack Wilson, Alex Bebbington, Luke Bebbington, Grant Coiley, Tyler Birtles, Glyn Roberts, Matthew Catchpole, David Davenport, Jacob Taylor, Euan Aitchison, Martin Cooper, Jake Jackson, Martin Caldwell, Ali Lawrence, David Coleman, Michael Large, Lewis Griffiths.
The Alex Away Shirts team consisted of Chris McGarrigle (goalkeeper), James Shaw (goalkeeper), Christopher Jones, Ben Law, Tom Billsborough, Jord Robinson, James Dodd, Neil Bergin, Warren Scoffin (captain), Alex Gresty, James Hill, Ben Gilbert, Gary Sinclair, Jack Hulme, Mark Beavon, Paul Spencer (Dario G), Stephen Hagyard, Daniel Prince, Aaron Walters, Russ Phillips, Gavin McKeith, Matt Johnson, Craig Baller.
The match officials were Jem Cornes (Referee), Ben Carter, Ben Guildford, Chris Lawson.
Match photographers were Kevin Warburton, David Munro and Jonathan White.
Due to government Covid restrictions the game was played behind closed doors.
The full game can be watched on YouTube: https://youtu.be/HKoXFWLC06w
Donations are still being received until May 19, via a JustGiving page https://www.justgiving.com/fundraising/andrew-scoffin