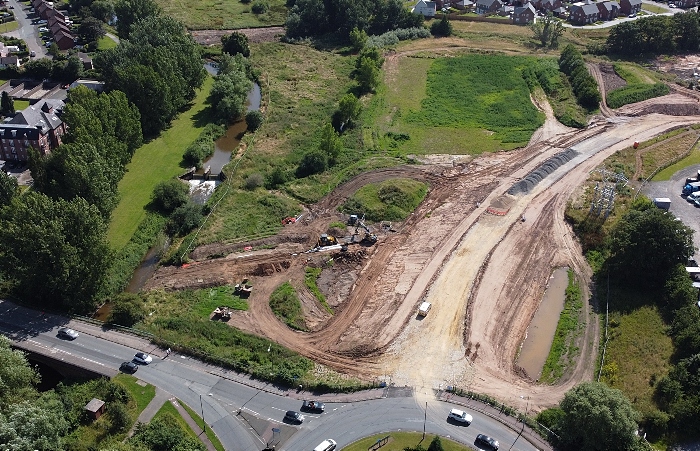 Work continues on the new spine road and Reaseheath bypass, with construction underway to clear the River Weaver floodplain, writes Jonathan White.
Contractors McPhillips have also excavated a channel between the raised Kingsbourne spine road and Reaseheath bypass and the river next to Reaseheath roundabout.
Observers say a waterproof membrane was being laid at the base of the channel last week, with a narrow section of piping placed on top, then covered with aggregate.
It's assumed this will improve drainage and prevent the raised road from buckling during and after any flooding of land after heavy rainfall or extreme weather events.
It is part of a range of measures aimed at counter-acting any potential flooding issues, which some residents and observers have raised concerns about.
Our image (below) shows the extent of the floods from River Weaver, taken as recently as February 2020.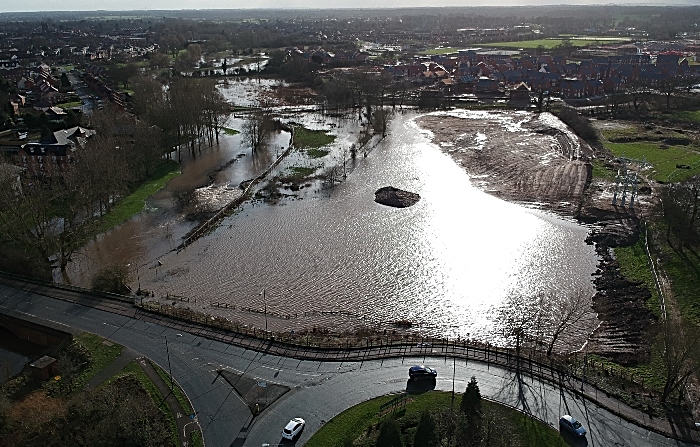 Aerial of flooded River Weaver from Reaseheath roundabout – February 2020We contacted McPhillips last week for an update on the work, but they have not replied.
On their website, McPhillips said: "The scheme has a number of notable civil engineering requirements that include a high capacity pumping station 7 metres deep, with associated storage tanks, and a single 20m span pedestrian bridge incorporating drainage outfalls and spanning the River Weaver.
"Drainage installation within the site has been at depths of up to 5 metres, and cutting edge trench support and de-watering techniques have been used."
The new road is expected to be completed and open by February 2022.
If the new road had to close in future, traffic into the new Kingsbourne estate and on to Chester/North Wales would be forced via a lengthy detour onto Waterlode or onto rural B-roads.
The spine road runs north/south through Kingsbourne and connects to the A51, B5074 Main Road, Nantwich Bypass and Barony Road at Reaseheath roundabout, next to Reaseheath College Equestrian Centre and the River Weaver.
The new Reaseheath bypass will route behind Reaseheath College Equestrian Centre and a row of houses to join onto the A51 by Holly Farm, close to the Welshmen's Lane/Wettenhall Road crossroads and Crewe Alexandra FC's Reaseheath Training Complex.
Other challenges encountered by the McPhillips team on site include high water table levels and associated ground conditions, along with the protection of water voles, badger setts and native trees.
On completion Kingsbourne will potentially consist of up to 1,100 dwellings, a new primary school, community facilities and local centre, allotments, recreational open space and associated landscaping, cycleways, footways and drainage infrastructure.
(Images courtesy of Jonathan White)