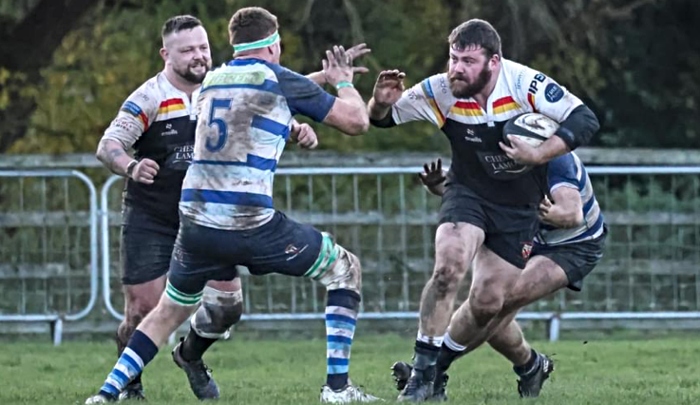 Crewe & Nantwich RUFC 1sts returned to winning ways in an entertaining clash with a strong Winnington Park side at the Vagrants.
Crewe named a side with a few changes from the previous week's defeat.
Ben Waterman made his first team debut and some old returning faces came back into the line up.
Crewe started the brighter of the two sides and from the off, it was clear their scrum were going to have the upper hand.
After a break through the middle, the ball was moved wide and Jacob Aston O'Donovan touched down for his first of three for the afternoon, 5-0 Crewe.
A familiar theme from previous weeks showed again, as Crewe conceded a series of penalties for a range of offences.
Winnington knocked over a 3 to make the score 5-3.
Winnington then gained some field position and with Crewe on the back foot, the visitors' winger dotted down in the corner to take the lead 5-10 at half time.
Again, Crewe started well, with some nice breaks by the backs.
Aston O'Donovan scored his second and Lynch added the extra, 12-10.
From the resulting kick off, Crewe moved the ball into space and Jacob was on the end of some good handling, completing his hat-trick, 19-10.
In a see-saw game, Winnington hit back through a series of pick and goes making the score 19-17.
Crewe's scrum dominance proved crucial as the forwards forced a penalty try and another followed shortly after as number 8 Rhys Price
dotted down an easy finish, 33-17.
Winnington continued to battle on and scored through the middle from some good offloading, leaving the final score 33-24.
A big five points for Crewe and a return to winning ways after two defeats.
Next week, Crewe entertain Douglas at home, 2.15pm kick off, all support welcome.
The 2nd XV shared some players with Warrington to ensure the fixture went ahead.
Crewe were winners by 38-5 and rugby was the winner as both clubs benefitted from the sharing of players.
On Sunday the women travelled to Southport where they were on the receiving end of a 70-7 defeat.
The weekend's fixtures provided an opportunity to commemorate Armistice Day.
Before the fixtures on Saturday, the teams and supporters gathered to pay their respects prior to kick off.
Representatives of the British Legion were present to conduct the ceremony.
The club made a donation to the British Legion from monies collected on the day.
On Sunday, the Mini and Juniors held a minute's silence in the rain which was really well respected (pictured)