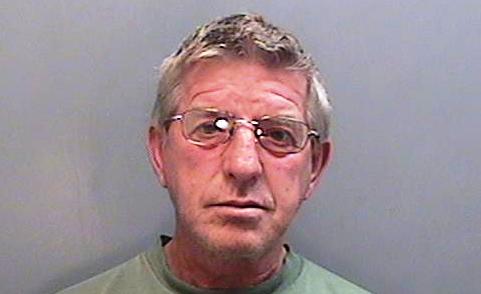 A lorry driver responsible for the death of two men on the hard shoulder of the M6 in South Cheshire has been jailed for six years.
Malcolm John Simpson (pictured) was convicted of two counts of causing death by dangerous driving after a three-day trial at Chester Crown Court.
Simpson, 62, from Barlby, Yorkshire, was driving his Scania HGV north on the M6 when he veered dangerously across the carriageway and ploughed into Thomas Southward and Philip Cawley.
The victims had been changing a tyre on the hard shoulder of the M6 close to junction 17 at Sandbach.
Thomas was thrown forward into the line of traffic and was hit by another HGV.
The horrific incident was caught on the Highways Agency′s CCTV and showed the vehicle drive onto the hard shoulder and back out and almost onto the middle lane.
It then drifted back into the hard shoulder where it collided with the men, who were pronounced dead at the scene.
Cheshire Motorway Inspector Liz Cunningham said: "Had the driver paid the necessary and correct attention, this tragic incident could have been avoided.
"He was employed as a professional driver in a high risk environment where the responsibility to other road users is paramount.
"This was a tragic incident which has left a hole in the lives of two families. While the sentence will bring a sense of closure, this will stay with the families of Thomas and Philip forever as they try to come to terms with such a horrendous loss."
In a joint statement, the victims' families said: "On the 9th September 2010 our families were devastated when we were informed by the police that Philip and Tommy had been killed on the hard shoulder of the M6 north of Sandbach.
"We have found this a very distressing and difficult 16 months for the enquiry to come to trial.
"We would like to thank everyone who assisted at the time of the incident, including the witnesses at the scene, Cheshire Police, CPS in particular Simon Parry QC and the family liason officers who supported the families through this very trying time."