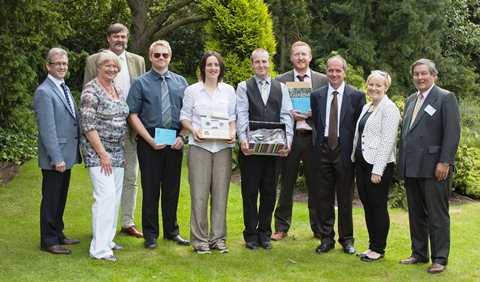 Trainee countryside wardens and gardeners graduated from The National Trust's Academy at a ceremony at Reaseheath College.
The trainees, who work at NT properties nationwide, completed a three-year programme run in partnership with the Nantwich college.
Special awards went to Jamie Harris for the Best Trainee Gardener, and Neil Hoad received James Row Memorial Award for Endeavour.
Outstanding wardens were Tim Fisher, Award for the Best Trainee Warden, and Lynn Cassells, Gareth Seel Award for Endeavour.
The awards were presented by Reaseheath's countryside course manager Leigh Cawley and horticulture course manager Ken Higginbotham.
The courses represent the most significant development in the charity's training for 20 years.
Mike Calnan, head of gardens at The National Trust, said: "Our new gardening courses are a great step forward and have been designed to develop the modern skills needed to sustainably manage major heritage gardens into the future.
"We believe they are a significant development for the sector and fill the training gap between existing botanic horticulture and amenity gardening diplomas."
Trainee gardeners will be based at major National Trust gardens and will spend 10 weeks a year at Reaseheath developing their knowledge.
National Trust Academy wardens will follow a two and a half year programme resulting in a BTEC Level 2 qualification in countryside management.
(Pic: Tim Fisher, Lynn Cassells, Neil Hoad and Jamie Harris with Reaseheath tutors Leigh Cawley and Ken Higginbotham, National Trust's Mike Calnan, Sarah Staniforth and Vicki Povall and Martin McMillan, a National Gardens Scheme trustee)