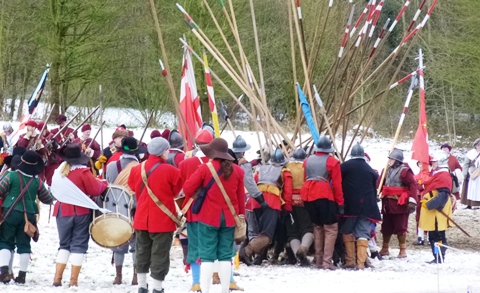 Thousands braved the snow and ice to watch the annual "Battle of Nantwich" spectacular played out in the town.
And this year, the town centre was packed with other activities to keep the crowds entertained before the march and battle re-enactment.
The event is organised by The Holly Holy Day Society in association with the Sealed Knot re-enactment society and Rotary.
This year was the 41st year the battle has been re-enacted.
Sealed Knot troops marched from Malbank down Welsh Row at 1pm to the town square for a wreath-laying ceremony.
Then they continued on from the square down Mill Street to Mill Island where the battle took place.
Holly Holy Day traces back to the 17th century and the four year long first English Civil War between Parliamentarians (Roundheads) and the Royalists (Cavaliers) loyal to Charles I.
A variety of events took place in town during the day as well as the wreath-laying at the war memorial to commemorate people who died in the Civil War Battle of Nantwich and other battles.
There was a Farmers Market, the Domesday Morris dancers performed as did the Nantwich Players and the Nantwich Museum staged activities and tours.
The 1644 battle was re-enacted on Mill Island and was followed by a prize-giving ceremony for the best regiment.
There were fears the event could be postponed because of the weather and ground conditions.
Organiser Shaun Cafferty said: "We had a look at Mill Island where the battle takes place, and obviously it was a bit soggy in places, but the new drainage system seems to be doing its job.
"Ground conditions were similar to what they were about four years ago, so it's a situation we've handled before.
"We spoken with the Sealed Knot and they assured us that they are happy to fight in any conditions!"
(All pictures courtesy of Jonathan White)