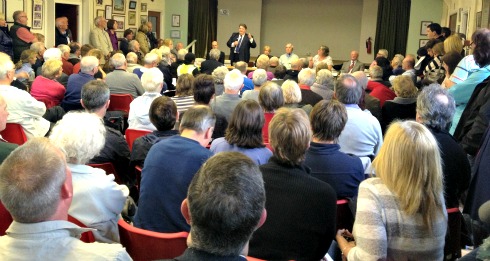 By Jonathan White
Cheshire East Council Leader Michael Jones faced concerned villagers in Wistaston over controversial housing development plans.
He attended a packed Wistaston Parish Council meeting to discuss plans by developers for thousands of new homes in the village.
The Main Hall of Wistaston Memorial Hall on Church Lane was crammed as residents came to hear his reaction to their objections.
Three developers, Muller Property, Gladman Properties, and Dolphin Land and Development Consultancy, are targeting open land off Church Lane, Middlewich Road and Wistaston Green Road.
Villagers fears include the potential loss of Wistaston's "Green Gap", increase in traffic, reduction of open space and recreation areas, and the negative impact on local schools and health facilities.
Cllr Jones said Cheshire East Council stands "strongly" against these unwanted, unsustainable developments and was producing a robust five-year-housing plan to protect local residents.
A representative from the newly formed "Hands Off Wistaston" campaign group  advised residents who object to the proposals to register and submit reasons for their objection to Cheshire East.
Residents can also register and sign an online ePetition to protect green space in Wistaston.
For details, contact the group at [email protected] , www.facebook.com/HandsOffWistaston, on Twitter @HandsOffCW2.