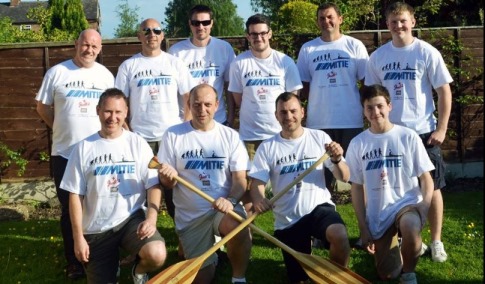 A team of Nantwich fundraisers are setting out to paddle 127 miles down the River Severn for local charities.
The group of 12 friends and family, called The Paddlers, hope their four-day adventure will raise £10,000 for five different causes.
They will paddle their two-man Canadian-style canoes for up to 10 hours a day between July 5 and 8.
One of the organisers Leon Hogg, from Stapeley, said: "It will be a gruelling test of endurance on the body and mind!
"We will be paddling for up to 10 hours per day to cover 127 miles from Welshpool to Gloucester in just four days.
"The team ranges in age from 14 to almost 50, with two father and son teams and all know one another as part of The Globe Inn football team in Stapeley.
"We decided one evening in winter to do something different that could raise money for important causes."
The five local charities to benefit will be Caudwell Children; Scope; Max Appeal; The Children's Adventure Farm Trust; and 35th SWC Scouts from Wistaston.
"We hope to raise over £10,000 and with the kind donations of friends and local businesses we are approaching that target and hope we can beat it," added Leon.
Other members of the group are David Thornley, Phil Holland, Andrew Holland, Gary Sandilands, Cameron Sandilands, Lee Bickerton, John Clougherty, Paul Buchanan, Paul Dennis, Steven Beesley, Richard Edwards and Ross Holland.
They will set out from Welshpool in Powys and finish in Gloucestershire before the river joins the Bristol Channel.
David, from Nantwich, said: "I have very limited paddling experience but with determination and a like-minded group alongside me I'm confident this huge challenge will be completed, resulting in lots of money being raised for good causes, and hopefully we'll have a few laughs along the way."
Visit the group's site at www.severnchallenge2013.webs.com which describes the route, the paddlers and a link to their donation site.