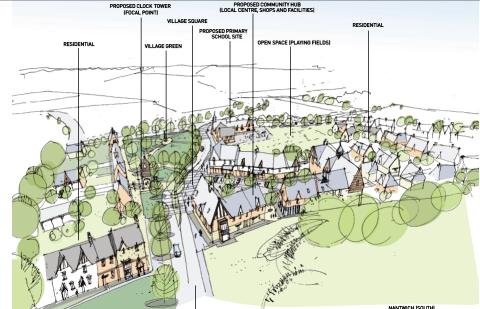 Housing developer Muller Property has submitted second applications for 189 houses and an access road for land in Stapeley, Nantwich.
The applications are almost identical to original ones submitted earlier in the year.
Now campaigners fear major developers will resubmit Government Minister Eric Pickles ruled last week that Cheshire East Council has failed to demonstrate a five-year housing land supply plan.
Muller wants to develop a 1,100-home "Nantwich South" village on land between Peter De Stapleigh Way, Audlem Road and London Road, which could include a school, village centre and business units.
But the plans have met fierce opposition from residents who say schools, roads and services could not cope with any more development.
Pat Cullen, who runs the ProtectStapeley campaign, said: "It is yet another example of how the cards are all stacked in favour of developers and how local residents have little say in what happens to their surroundings.
"Protect Stapeley will be vigorously opposing this application just as it continues to oppose the current application that is still under appeal.
"This is in response to the recent decision by the Planning Inspectorate that CE does not have a 5-year land supply – Muller's revised documents now take this in to account.
"Apparently a number of Willaston applications that were originally refused have now been resubmitted.
"This "two-pronged" tactic is being used more and more by developers.  Muller has got one application under appeal – if he wins then he will withdraw the new application.  If he loses he will simply wait for the second application to come round and start all over again.
"I'm afraid development is not 'plan-led' like it should be, it's 'developer led' – they seem to be able to decide where they want to build.
"Local residents don't have a say about what happens where they live."
A number of residents have already lodged their objections to the new applications on the Cheshire East Council planning portal.
Nantwichnews contacted Muller and is awaiting a  reply.