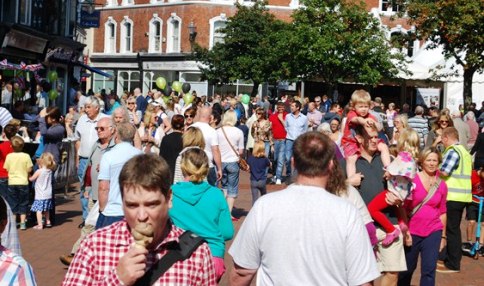 Organisers of this weekend's Nantwich Town Fete are promising a fun-packed day for all the family.
The event, a revival of an old tradition, will sit alongside "SkoolsFest", which showcases young talent from the town's schools in singing, dancing, drama and the arts.
Thousands of people are expected in the town to enjoy the SkoolsFest performances, with more entertainment now lined up.
Fete spokesman Shaun Cafferty said: "This is a collaboration between the local community and St Mary's Church, and with the support of the local schools who are staging their SkoolsFest event with the fete.
"We also have the Farmers Market on as well, so I think the town will be really buzzing!
"We wanted to have a low cost family type event in the town, which will hopefully be a good day out for visitors from far and wide, as well as local folk.
"We don't have a major town centre event between the Jazz Festival and the Food Festival, so we are hoping to plug that gap.
"There will be a couple of fairground rides for younger children, a toffee apple and candyfloss stall, hog roast, and Punch and Judy performances – all in the town centre around the square and the church.
"We will also be having a range of traditional entertainment stalls such as a coconut shy, throwing wet sponges at volunteers in the pillory, and other similar opportunities for people to demonstrate their abilities!
"We have even got Maypole dancing, or should that be June pole?!"
The town's new Mayor Cllr Christine Farrall has also been actively involved in organising the fete.
She said: "Not only will this be another good Nantwich day out, but all our local traders should see a benefit from attracting more visitors to spend their Saturday – and hopefully their money – in Nantwich.
"A lot of hard work has been put in by volunteers and by the heads and teachers at our local schools, and not forgetting our local children who will be demonstrating their abilities on the day.
"We have seen a lot of co-operation from business and from across the community, especially St Mary's Church, who we hope will be able to raise some much-needed funds through the event."
SkoolsFest includes performances by the Co-Op Youth band in the square; art exhibition at the museum; music, dance and drama at Nantwich Civic Hall and in the Parish Hall; writing workshops at the library; and an all-day storytelling performance in the well area of St Mary's Church.
It will start with "The Big Sing" with hundreds of children gathering at 10am by the church to sing a medley of folk and contemporary songs.