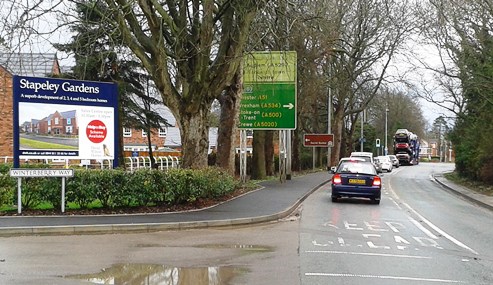 The second phase of the Stapeley Gardens housing development in Nantwich has been given the go ahead by councillors.
Another 176 houses are to be built on the former Stapeley Water Gardens brownfield site between London Road and Peter de Stapleigh Way.
And councillors who passed the application from David Wilson rubber-stamped plans for access to the second phase to be from the A51 London Road side.
Residents had previously expressed concern about the traffic problems on that stretch of road up to the traffic lights with Peter de Stapleigh Way and Elwood Way.
However, any plans to use the stub off de Stapleigh Way opposite the Cronkinson Farm pub as access were ditched because of land ownership problems.
Nantwich Town Cllr Arthur Moran attended the Cheshire East Council strategic planning board meeting yesterday (August 20).
He said: "They approved access for both phase 1 and phase 2 of the development to be from London Road.
"I know some are very worried about the impact on traffic along London Road as a result."
Cllr Andrew Martin, of Nantwich South and Stapeley, was not able to attend the meeting.
But he said: "The level of traffic on London Road is a real concern."
At a public meeting in March, Andrew Taylor, of David Wilson, told concerned residents that London Road was the only viable access.
"There's a ransom situation on that land at Peter de Stapleigh Way," said Mr Taylor at the meeting.
"We don't own the land, and it would cost us a great deal to buy that which would mean we could not make contributions in other areas."
The company vowed to look at ways of easing traffic flow at the London Road/Elwood Way/Peter de Stapleigh Way junction.
One possibility is to introduce high-tech "linking" technology so the traffic signals at the junction and the one with Newcastle Road work in tandem with use of sensors.