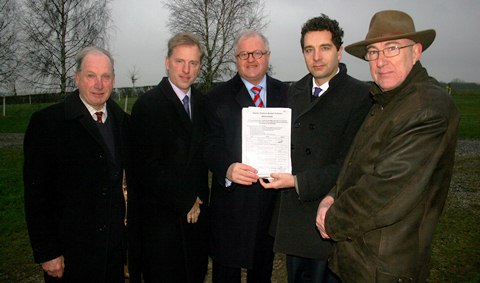 Ministers have refused controversial appeals by Muller Property Group to build the first phase of a 1,100-home "Nantwich South" development in Stapeley.
The developer had applied to build 189 homes and an access road off Peter de Stapleigh Way.
It was to be the first phase of a 1,100-home development on land between Peter de Stapleigh Way, Broad Lane and London Road.
After being refused by Cheshire East Council, the company's original appeal was called in by Secretary of State for Communities and Local Government (DCLG) Eric Pickles, who refused Muller's appeal.
But the company won a High Court legal challenge, and the case was sent back to DCLG.
A final decision was issued today by new Secretary of State, Sajid Javid, in a 51-page document which has refused Muller's appeals for the housing and access road.
A delighted Pat Cullen, who runs Protect Stapeley campaign group, told Nantwichnews: "This is great news for Nantwich.
"In particular, the decision refers to the potential development spoiling the countryside around Nantwich.
"This is what we all want, to protect our countryside. We are not against development and recognise the need for housing.
"But sometimes we have to say 'hang on, not on the countryside'.
"It's great news as far as we are concerned.
"Muller of course has six weeks in which to appeal, but remember two Secretaries of State have now turned this down, Nantwich does not want this and hopefully Muller will finally listen."
Edward Timpson, MP for Crewe and Nantwich, said: "We have waited some time for this planning decision, and it is very welcome indeed!
"Having campaigned for years against this unsustainable development with our local councillors and residents' action group, I am delighted that the Secretary of State has agreed with all of us.
"It also gives greater weight to the local plan — something I am very pleased to hear, given that I have spent so much time pushing its importance."
Cllr Peter Groves, Cheshire East ward councillor for Nantwich South and Stapeley, added: "Together with Edward Timpson MP, my colleague Cllr Andrew Martin and the dedicated campaign team Protect Stapeley, we have managed to see off this unwanted Stapeley development on behalf of local people.
"I am pleased the Secretary of State has noted that the adverse impacts of granting permission would significantly outweigh the benefits, taking into consideration our local plan."