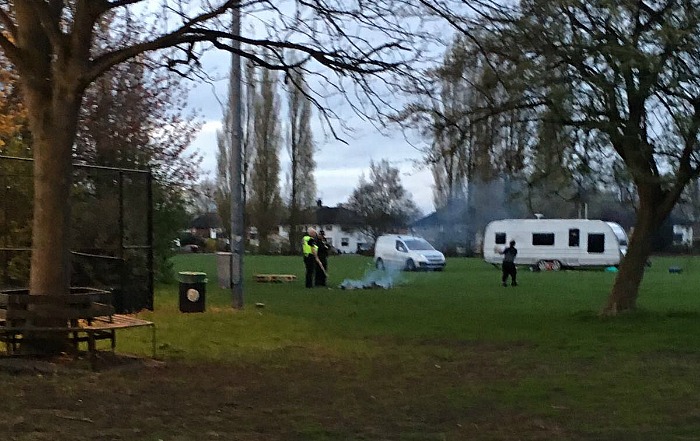 Residents called on councillors to take action after the latest case of travellers illegally setting up camp on Barony Park in Nantwich.
Families on Park View and surrounding streets have complained about anti-social behaviour of travellers, including fires being set alight, indecent exposure, and criminal damage.
Now they say enough is enough – and are demanding action after years of incidents on the park involving different sets of travellers.
One resident told the Nantwich Town Council meeting tonight (April 6): "Since their arrival on Sunday we've seen four fire engines and eight police cars having to attend.
"There have been extra patrols to monitor what they are doing, and more Cheshire East park attendants turning out to clear away rubbish everyday. And at what cost?
"As well as fires, there has been criminal damage, with signs being ripped down.
"They have been driving across the park causing damage, indecent exposure just urinating and defecating, swearing at local children using the park, rubbish blown everywhere, just general anti-social behaviour.
"What is going to be done to stop this from happening time and again?"
Councillors said fencing off the park would be too difficult.
But another resident suggested placing large boulders around the perimeter of the park to prevent vehicles entering.
"We had a similar problem where I used to live," she said.
"But the large boulders worked. We had one entrance, with barriers, to allow park maintenance vehicles and equipment."
Nantwich police officers said they agreed with residents and felt "frustrated" that they could not do anything.
PCSO Stuart Mortimer told the meeting: "It is very frustrating for me and the other officers.
"A lot of our time is wasted, but there's not a lot we can do as it is up to Cheshire East Council as owners of the park to move them on.
"Criminal activity should be reported to the police and we can investigate that."
Cllr Arthur Moran, Indepedent for Nantwich North and West, said: "I have every sympathy with the residents, and this is not the first time.
"We've seen travellers on Coronation Gardens and also on Weaver Stadium car park in the past.
"I'm as frustrated as everyone else. I have asked Cheshire East Council to consider some sort of physical barrier around the Barony."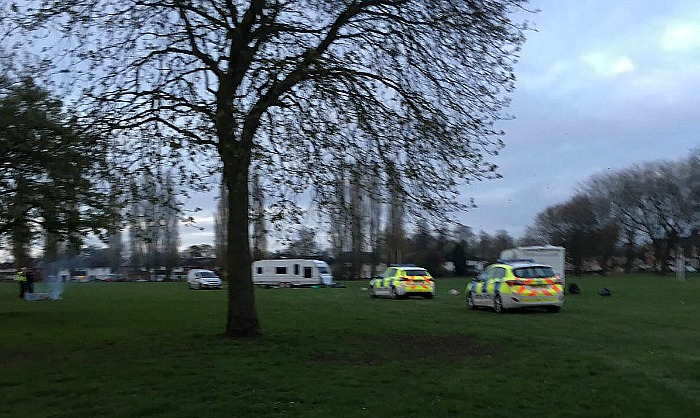 He said one residents had pointed out the reason Cheshire East failed to act was because its tow truck, used to remove vehicles parked illegally, had been off the road.
"Once the latest group have gone we need to sit down with Cheshire East and police and come up with a solution to this," he added.
Cllr Peter Groves, who also sits on Cheshire East Council for Nantwich South and Stapeley, added: "It is a difficult, sensitive matter and we need to meet with the relevant officers to see what can be done.
"We have extremely able officers who go through the court process to get an order in place to remove them."
However, another resident suggested Cheshire East should have a permanent Section 59 order in place for Barony which allows for the immediate removal of illegal travelling camps.
"If I behaved like they do, I'd get some sort of summons or ASBO," he added.
"It feels like there is one law for us and another one for them."
Nantwich Town Council agreed to contact Cheshire East to launch an investigation into resolving the problem.
(pics courtesy of Nantwichnews reader)