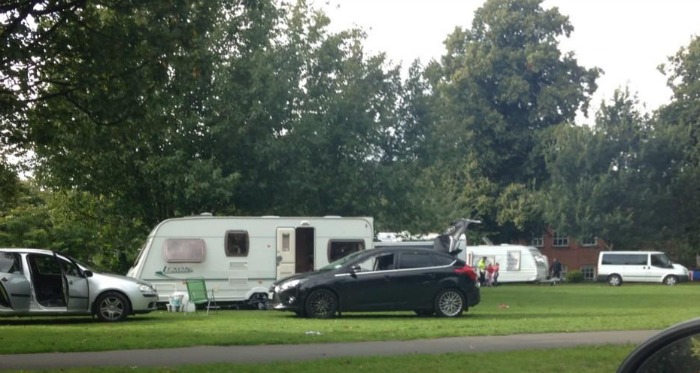 Nantwich Town councillors could request Barony Park be transferred to them from Cheshire East Council in a bid to resolve ongoing issues with unauthorised traveller encampments.
The idea was mooted at last night's Nantwich Town Council where members of the public, police and councillors discussed how to prevent traveller groups gaining access to the park.
Barony Park is currently owned by Cheshire East Council, and the authority has discounted prevention methods such as fencing, ditches, boulders or grass mounds because of cost as well as effectiveness.
Cllr David Marren, Mayor of Nantwich Town Council, said: "Nantwich Town Council does not own this land, and Cheshire East must invest in defensive measures if anyone wants to.
"CEC has considered a number of measures such as digging a ditch around the park, or putting up railings or mounds, but these are prohibitively expensive.
"There have been five incursions on the park this year. We have pressed Cheshire East extensively to make sure court action is processed, litter clearance is done immediately it is vacated.
"What we could make a representation to Cheshire East about is possible transfer in ownership of the park. That would allow the town council to put defensive measures in place."
The town council has responded to a national Government consultation on the issue of illegal traveller encampments.
One of the issues is the lack of a designated 'transit' site to direct traveller groups to once they are in the borough.
Cllr Marren told residents at the meeting last night (July 12): "We are as frustrated as you are, and we are applying as much pressure as we can.
"We could write and press for the transit site, and ask Cheshire East to consider transferring the Barony in the ownership of the town council."
Cllr Peter Groves added: "All of us are immensely frustrated with the issue of travellers, and a lot is being done behind the scenes.
"Please take heart, we are aware, we are not ignoring it and we have every sympathy."
The town council has successfully taken over a number of assets from Cheshire East in the past, including Nantwich Civic Hall, the indoor market and public toilets.