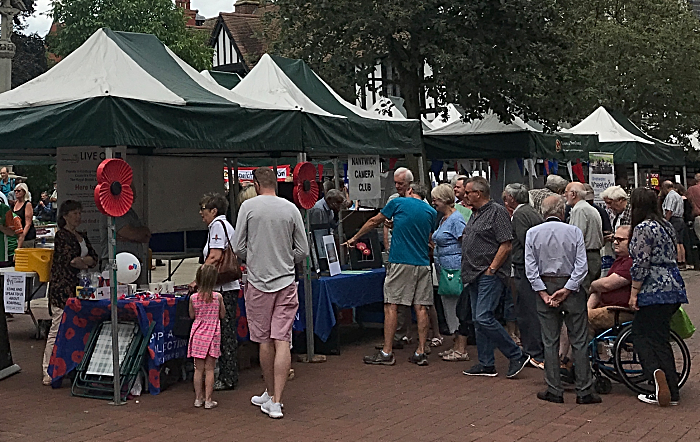 Visitors packed in to Nantwich town square for the popular Societies Spectacular event today (July 21), writes Jonathan White.
Local groups and societies opened up stalls to promote what they do to a large audience in an event organised by Nantwich Town Council.
The annual day is popular in helping clubs and societies recruit new members and volunteers and publicise the causes they work towards.
Around 30 organisations had members on stalls talking to visitors and those interested in joining or finding out more.
There were plenty of activities and demonstrations on offer – as diverse as photography, amateur dramatics, arts and crafts, fitness and cinema.
Mayor of Nantwich Cllr David Marren and Deputy Mayor of Nantwich Cllr Arthur Moran took time to talk to each stall.
Groups represented during the day included:
Adapt
Audlem Lass Boat Service
Barking Mad Nantwich & South Cheshire
Community Recycle Cycles
Crewe & Nantwich Korfball
Herbalife Nutrition
Kumon
Mid Cheshire Amateur Radio Society
Nantwich & Border Sailing Club
Nantwich & District Soroptomists
Nantwich Camera Club
Nantwich Choral Society
Nantwich Film Club
Nantwich Food Festival
Nantwich Museum
Nantwich Players
Nantwich Rotary Club
Nantwich Tennis Club
Nantwich Walled Garden Society
National Women's Register
Overwater Wheelyboat
Royal British Legion
RSPCA Crewe & Nantwich
Scottish Society
Senior coffee morning
Shropshire Aero Club
South Cheshire Astronomical Society
South Cheshire Embroiders Guild
South Cheshire National Trust Association
The Cat Community Radio
Words and Music Festival
Wrenbury & District Model Railway Club
(pics by Jonathan White)