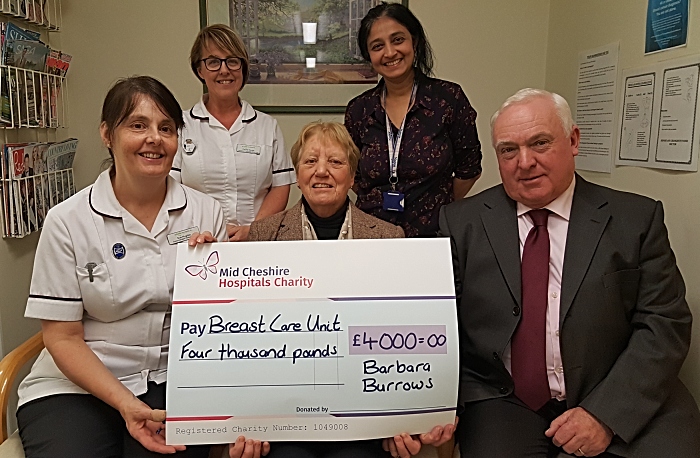 A Nantwich patient cared for at Crewe's Leighton Hospital this year, has handed over £4,000 to the Breast Care Unit team.
Barbara Burrows and her husband Nigel held an event at their home, hoping to raise around £1,000 for the unit.
So they were delighted when the final total was four times that amount.
Emma Robertson, MCH Charity Manager, said: "We are so grateful to Barbara, her husband and to all the people who supported her event to raise this fantastic amount.
"It was lovely to be able to arrange the cheque presentation with the team in the unit, which gave members of staff the chance to speak to Barbara and to thank her directly."
The team is hoping to spend the money to buy items such as a water cooler and specialised chairs for the waiting area which will greatly improve patient experience.
If you would like to make a donation or to fundraise for a ward, department or service at Mid Cheshire Hospitals NHS Foundation Trust that is close to your heart, contact Carole Salmon, Community Fundraiser, on 01270 273248 or [email protected]
(Pic: L-R – Sue Hughes, Superintendent/Programme Manager; Denise Davies, Advanced Practioner; Barbara Burrows; Truph Dabholkar, Director of Breast Screening; Nigel Burrows, Barbara's husband)