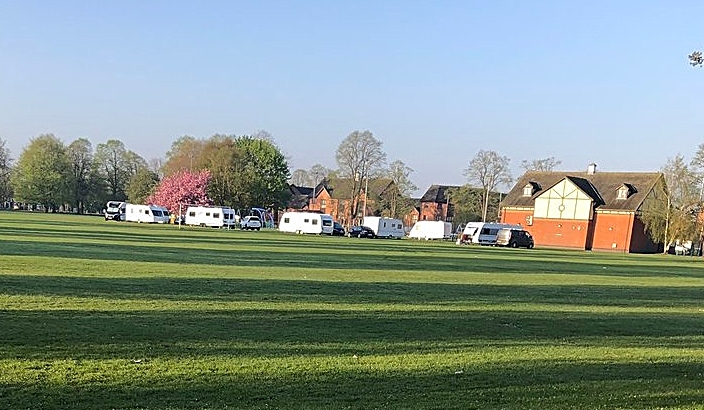 Angry Nantwich residents have called on Cheshire East Council to build perimeter fencing around Barony Park after it emerged the authority has potentially earmarked part of a £2 million pot for the work.
It comes after families lost use of the park for more than a week when the latest illegal traveller encampment parked on the site between Good Friday April 19 and Saturday April 27.
They have faced a three-year battle with authorities to prevent the park being used by travellers, but with no action being taken.
Yesterday (April 28), they met with ward councillor Arthur Moran.
A spokeswoman for the residents on Park View said: "These illegal encampments are the source of anti-social behaviour and making lives of residents a misery.
"It also gives settled, law-abiding travellers in the area a bad name.
"We first attended Nantwich Town Council back in February 2017 and nothing has progressed since then. It's not acceptable.
"Cheshire East Council has failed to provide a transit site, has let the planning process slip for a proposed one at Cledford, which means police have no powers to move illegal camps on."
Some proactive residents even carried out their own measurements and costings for a number of barrier options, which they say ranged from £90,000 to £150,000.
"Then we were told it was too costly, when our research shows every time there is an illegal encampment it costs taxpayers around £10,000!"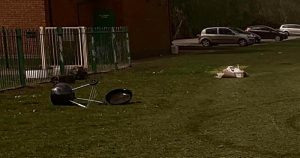 Nantwich councillors Arthur Moran and David Marren blamed Cheshire East Council for failing to act.
Cllr Moran said: "The situation with travellers on the Barony Park can be laid at the door of Cheshire East Council in not spending the money on preventative measures on the Barony or providing a transit site for travellers in Cheshire East and even letting the planning application lapse.
"Having met the residents they obviously feel let down and want urgent action on both theses issues as this been going on for over three years.
"I informed them of the plans for Everybody Leisure as part of the upgrades to the Barony facility. Part of the work would be a perimeter fence which would help deter travellers camping on the Barony.
"Since the meeting I was informed by a resident that someone from Everybody Leisure had stated they had funding in place and were ready to go ahead but Cheshire East Council were stalling on permission.
"I have to say is this a politically motivated decision first not to make the announcement before the election and secondly not to give Everybody Leisure permission to go ahead."
A spokesperson for Everybody said no one had spoken to residents about the scheme.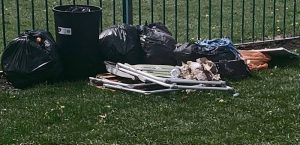 Mayor of Nantwich Cllr Marren launched a stinging attack on Cheshire East Council leader Cllr Rachel Bailey over the issue.
He said: "This is a Cheshire East owned facility and the Town Council have repeatedly called upon Cheshire East to protect it.
"They haven't and won't because the Leader of Cheshire East doesn't regard it as a priority.
"The Town Council have called for the transfer of the Barony Park to the ownership of the Town Council but the Leader of Cheshire East Council doesn't support that.
"I personally sponsored an application for new homes bonus money to be spent on defending the Barony Park in January. It was not successful.
"There is only one person stopping defensive measures being put in place around the Barony and they are not Town Councillors."
Nantwich News contacted Cllr Bailey but she declined to comment.
A Cheshire East Council spokesperson said: "The council has been assured that no representative of Everybody Sport and Recreation (Esar) was present at this meeting and that no official statement was made about funding for barrier fencing at The Barony.
"In February, Cabinet approved investment of up to £2 million for The Barony and Nantwich Pool and this is subject to an approved business case put forward by Esar.
"The feasibility of providing secure fencing or other barrier to prevent unauthorised incursion on to the field, may be examined as part of that process, although this is very much at an early stage. A further meeting to progress this is scheduled for the end of May.
"Securing The Barony from unauthorised traveller encampments remains a challenge to the council owing to the scale and nature of the open park.
"We understand the travellers have now moved off the site. The council had already taken initial steps in preparation for court action this week, had they failed to do so."