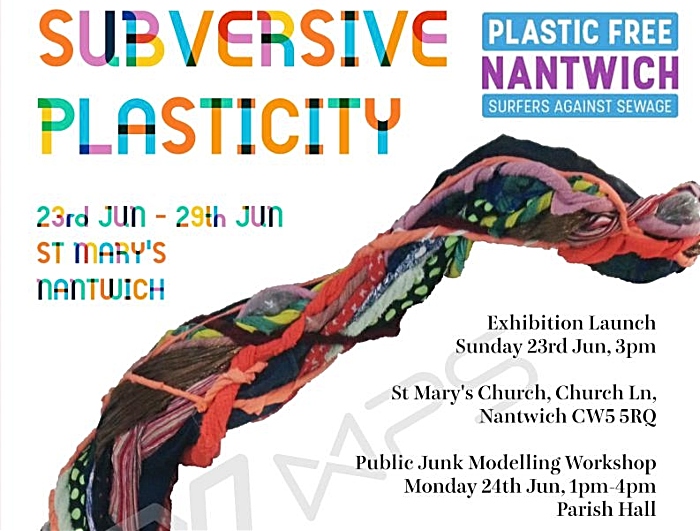 A Plastic Free Nantwich exhibition is to be opened at St Mary's Church in Nantwich.
"Subversive Plasticity" is an inspired plastic waste art show in one of Cheshire's most beautiful medieval buildings.
The unique exhibition has been put together by Keele University.
Two of the works which focus on marine themes – the Net and the Reef – will also be displayed in a way that allows visitors at the opening and schoolchildren attending workshops to add their own plastic art pieces.
Dr Deirdre McKay, from Keele University, said: "Filling a medieval church with art made from waste looks amazing! The church – its stone, wood, wrought iron and glass – represents centuries of faith.
"Contrast that with the plastics that end up in our oceans, which seem cheerful and flimsy but are also durable, taking centuries to break up and endangering wildlife and contaminating food. Plastic has a legacy, too."
Emilie Janman, Plastic Free Nantwich Co-ordinator, said: "It's brilliant to see Keele University and B-Arts working with people in Nantwich to highlight this critical issue.
"The exhibition will really get people thinking, contrasting the sublime beauty, carved from wood and stone, of the Cathedral of South Cheshire, with the throw away nightmare of plastic choking the modern world.
"The church is all about community and connectivity – the opposite of the atomised, isolated, consumer fantasy that is eating our planet and our common future."
The Revd Dr Mark Hart, Rector of Nantwich, added: "St Mary's Church was built to last, as a sign of what endures, so it is appropriate that its magnificent space can be used to highlight the damage caused by single-use disposable plastic."
As well as the exhibition there will be drink and food available.
It opens at 3pm on Sunday June 23 St Mary's Church, Nantwich, and the exhibition will run for six days until June 29.