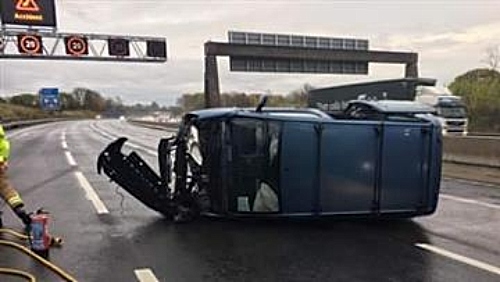 Two separate crashes on the M6 in Cheshire left thousands of motorists in long tailbacks today.
The driver managed to escape this crash which left a vehicle on its side on the southbound carriageway between junctions 19 and 18 at around 8.30am.
Fire crews from Lymm, Winsford and Trafford attended along with the major rescue unit from Winsford.
On arrival the crews found that no one was trapped inside the saloon vehicle.
Firefighters made the vehicle safe before it was moved from between lanes two and three onto the hard shoulder.
They were in attendance for less than half-an-hour.
Just an hour earlier, one person was left trapped after an accident northbound in the same section between junctions 18 and 19.
Crews from Holmes Chapel, Middlewich and Sandbach attended the crash involving two cars, which left one person trapped inside.
Northbound was closed as well as lane four of the southbound carriageway as the crews worked at the scene.
Firefighters used specialist cutting equipment to remove the roof of the car that the casualty was trapped inside.
They then got the casualty out and handed them over to the care of paramedics.
Firefighters were in attendance for around an hour-and-a-half.
Last night at around 10pm, a car crashed off a road near Tarporley and into a nearby pond.
It happened on Beech Lane, Cotebrook.
The driver had managed to free himself and get out before fire crews arrived.
Two swift water technicians with a raft checked there was no one else in the car and the driver was checked over by paramedics.
(Image provided by Cheshire Fire Service)