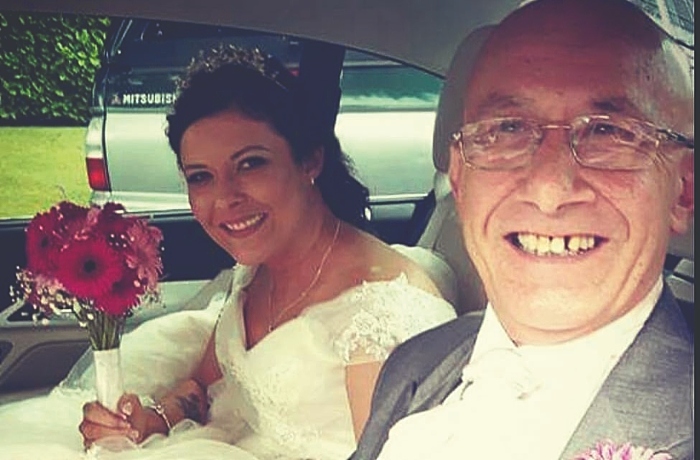 A Cheshire family woman is urging the community to support St Luke's this Christmas following the care and comfort her family received at the Hospice during her Dad's final days.
Lorna Tulloch is facing her first Christmas without her Dad, Keith Taylor, after he died of cancer earlier this year.
Keith ran Taylor's Newsagents in Wheelock Street in Middlewich for many years, but was also well known as a jockey, even competing in the Grand National in 1979.
Lorna is supporting St Luke's Christmas Appeal to raise £13,000 to modernise and improve bathroom amenities on the Inpatient Unit at the Hospice.
Lorna said: "This Christmas is going to be a difficult time for my family, like it is for so many families who've lost loved ones, because it will be our first Christmas without my lovely Dad.
"Dad passed away peacefully at St Luke's in January this year and I will be forever in debt to the nurses for helping us during his final days.
"I don't think you realise just how amazing and vital St Luke's is until you need their help.
"In January 2018, at the age of 70, Dad was diagnosed with Rectal Cancer, and after surgery and chemotherapy was given the devastating news that the cancer had spread. Last Christmas was just horrendous because we knew he was dying.
"He was still at home but he was bed bound and I just sat and held his hand and chatted about all sorts of things. I knew it was the last Christmas I'd share with my Dad.
"Dad was adamant that he wanted to die at St Luke's, not at home or in hospital. He knew what a good place it was and that was why he wanted to finish his life there. He was finally admitted on 7th January, six days before he passed away.
"My Mum went with him in the ambulance and I followed in my car and I remember thinking 'this is the last time my parents are going to go anywhere together and it's to the Hospice for my Dad to die.' It was heart breaking.
"The minute he got admitted to the Hospice, you could see the relief on my Mum's face, she could be his wife again not his carer. It's funny because you would think a Hospice is a depressing place, but it really isn't.
"It was a home from home, my Mum was able to have meals there and every single person at the Hospice was just brilliant.
"My Dad was an animal lover and had a lovely bond with my Labrador puppy Ronnie. Most people probably don't realise but pets are allowed to visit the Hospice, so I took Ronnie in with me as he always brought a smile to Dad's face. After Dad had passed away Ronnie jumped on his bed and lay next to him for half an hour.
"I am so grateful to St Luke's for allowing us to have that special time with Dad. His last days were very dignified and that's what he would have wanted.
"My Mum and I have treasured memories of his last days and we know that Dad will always live on in our hearts and minds – and that has helped us to cope."
In April, just three months after her Dad passed away, Lorna's family suffered another blow when her Mum Jennifer was diagnosed with cancer. Jennifer is undergoing treatment and responding well, supported by St Luke's Day Hospice.
Lorna said: "She has been such an inspiration to me because she's lost her husband of 47 years, who was her rock, but she's stayed so positive and has kept going.
"I want people to know how amazing I think she is. She's receiving counselling with St Luke's and is now being supported by their Day Hospice, so St Luke's continues to be there for my family.
"Without St Luke's, things would have been so different for us. I now realise just how important St Luke's is to our local community.
"But if people don't support St Luke's, if they don't give money, if they don't volunteer, if they don't do the Midnight Walk then St Luke's simply won't be there.
"Please consider giving a donation to St Luke's this Christmas to help more families like mine get the care and comfort they need."
Thanks to generous donations last Christmas, the Hospice was able to update equipment such as mattresses, chairs and televisions on the Inpatient Unit, providing increased comfort for patients and their families at one of the most difficult times of their lives.
This Christmas the Hospice is appealing for donations to help modernise and improve its current bathroom amenities, which will cost £13,000.
Wendy Wilson, St Luke's Director of Care, said: "We know that Christmas can be a very difficult time of year for people who are coming to terms with a diagnosis or grieving the loss of a loved one.
"We are so pleased that the Hospice was able to support Lorna's family, offering care and comfort to them all in Keith's final days, and we are so grateful to Lorna for sharing her story.
"We would love to make further improvements to our Inpatient Unit at the Hospice by raising enough money to fund specially adapted bathroom facilities, allowing us to maximise comfort and support the wellbeing and independence of our patients.
"If 500 supporters donated £26 to St Luke's this Christmas we would have £13,000 to carry out the work.
"However, every penny we receive will make a difference so if you feel able to make a donation, however big or small, we would be very grateful."
For more information about St Luke's Christmas Appeal or to make a donation visit www.slhospice.co.uk/lornasappeal