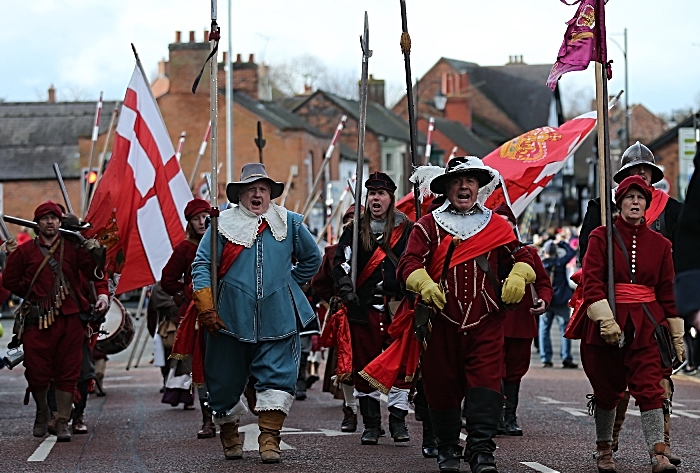 Thousands are expected to line the town centre streets for the annual 'Battle of Nantwich' next Saturday, writes Jonathan White.
For more than 40 years the troops of The Sealed Knot have gathered in Nantwich to re-enact the battle that took place in 1644.
The battle marked the end of the siege of the town during the English Civil War.
A variety of activities will take place during the day at St Mary's Church, Acton; St Mary's Church, Nantwich; Nantwich Bookshop & Coffee Lounge; Nantwich Museum, Pillory Street; and the town square, along with a parade and the battle re-enactment on Mill Island.
There will be live entertainment at the main stage on the town square, hosted by RedShift and Function Event Hire, from 10am.
This year performers include Phoebe Crewe, Sinead D'Abreu-Hayling, The Funky Choir and the Cheshire Drums and Bugles.
Other activities around town included Plough Witches, Domesday Morris Dancers, a hog roast, tours of St Mary's Church Nantwich and a Civil War author book signing at the Nantwich Bookshop.
Nantwich Museum will host a Musketry & Pike demonstration by Sealed Knot (10:30-11:30am, donations welcome) and 17th century music from Forlorne Hope (11:45am-12:45pm) and lead a Civil War tour (10-11:30am, £4 per person).
The parade of several hundred Sealed Knot troops leaves Malbank School & Sixth Form College at 12:45pm and travel along Welsh Row to arrive into the town centre at 1pm.
A new Patron has been appointed for the first Battle of this decade.
Lord Lieutenant David Briggs has accepted the role and will join the wreath laying ceremony and inspection of the troops.
The wreath-laying ceremony at the war memorial on the town square at 1.15pm will commemorate the people who died in the Civil War Battle of Nantwich and other battles.
The troops will parade at 1.30pm to Mill Island to re-enact the 1644 battle.
Spectators are welcome onto Mill Island from 1.45pm. Cost £3 for adults, £6 family of 4, £1 for concessions.
Volunteers are welcome to help with marshalling on the day and should call Liz on 07886633370 for further details.
Liz Parkin, Chair of the Holly Holy Day Society, said: "Once again the history of our town comes alive thanks to a small team of volunteers and a huge amount of support from local businesses.
"Thanks must go to all our sponsors and especially our lead sponsors Applewood Independent, Hall Smith Whittingham, Air Products and Tesni Homes."
For further information please visit https://www.battleofnantwich.org/