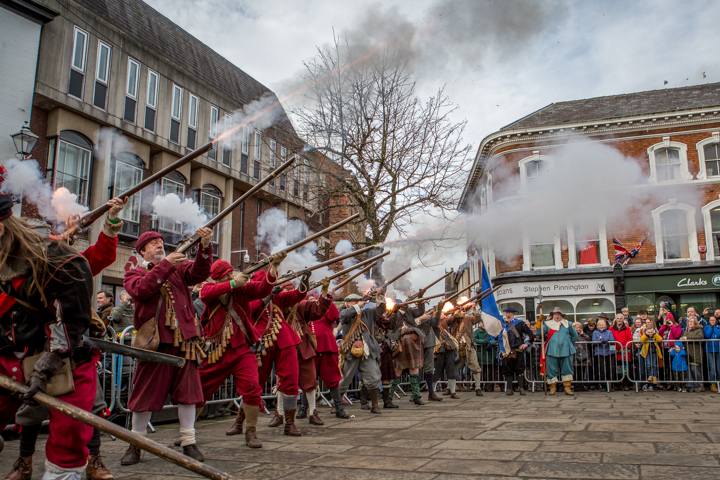 The annual 'Battle of Nantwich & Winter Fayre' has been cancelled by the Covid pandemic, organisers have confirmed.
The Holly Holy Day annual event normally takes place on the final weekend of January, and is one of the biggest one-day events in the town.
It sees Sealed Knot soldiers parade through town before re-enacting the 1644 Battle of Nantwich on Mill Island.
It had been due to take place on Saturday January 23, but current lockdown restrictions mean it has been cancelled.
Liz Parkin, Chair of the Holly Holy Day Society, said: "It is with sadness that we are not able to hold the Battle this year.
"We thought we were the lucky ones being the only community organisation to hold an event last year but alas, we too have succumbed to Covid restrictions for our 2021 event.
"I am sure the excitement and spectacle that is the Battle of Nantwich will indeed be back with an even bigger bang next year!"
Colin Bisset, Captain of the Yeoman of the Sealed Knot, said: "I am very sorry, but under current circumstances we cannot hold the Battle or indeed a small wreath laying service of any kind."
The 'Battle of Nantwich & Winter Fayre' is organised by the Holly Holy Day Society, a small non-profit group of people working with The Sealed Knot re-enactment society.
It is hoped the event will return in 2022.
Holly Holy Day traces back to the 17th century and the four-year-long First English Civil War between the Parliamentarians (Roundheads) and the Royalists (Cavaliers) loyal to Charles I.
This year is the 377th anniversary of the original battle, which took place on 25th January 1644.