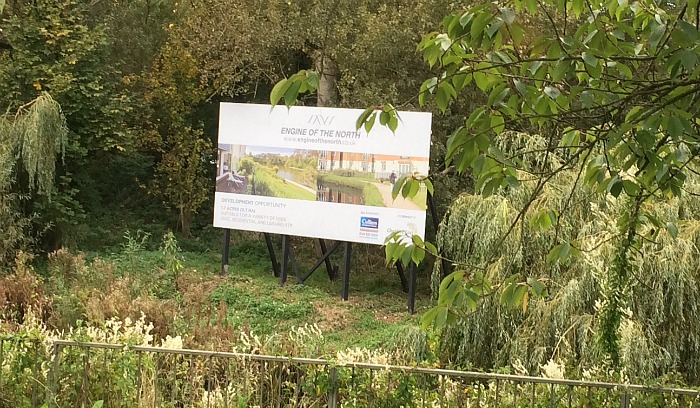 The loss of the old gasworks parking site in Nantwich will add to a "rising tide" of traffic problems, say concerned Civic Society members.
Development of the St Anne's Lane site (pictured) will see the town lose 200 'free' parking spaces each day.
Now Nantwich Civic Society fear the loss of the site will lead to vehicles clogging up surrounding residential streets.
They have written to Cheshire East Council calling for action to cater for the loss of the parking site off Welsh Row.
Jeff Stubbs, chairman of the society, said: "The new "For Sale" signs around the former gasworks in town has stimulated questions about what will happen to the cars that park there currently when the site is developed.
"While St Annes Lane has never been an official car park, it holds around 200 vehicles each day.
"When this site is developed all these vehicles will be displaced into the rest of the town, especially 'free parking' clogging up residential streets.
"There appears to members to be no plan for accommodating them.
"Already, members report local streets being blocked by workers' cars around the centre and it is spreading further out all the time.
"There are no answers, currently, that we know of to this rising tide of traffic-related problems in our town."
Mr Stubbs said there is an "urgent need" for a traffic and parking study leading to solutions to current and future problems.
"Civic Society members are not alone in town for having real concerns about future parking and traffic requirements arising from the many hundreds of new houses already being built or planned.
"The Civic Society recognises the economic benefits of new development, but we are worried because we are not aware of any plans being put in place for accommodating more cars and people."
He said any traffic study should include a wide public consultation.
"The Society has already furnished Cheshire East with some suggestions for expanding parking spaces in and around existing car parks," he added.
"But these additional spaces are just a drop in the ocean of parking needs over the next five years or so.
"Society members make these suggestions in a spirit of helpfulness because the best interests of our town will be served by an urgent study and strategy.
"We do not want to slide into more parking problems for residential streets and traffic chaos in the future."
Nantwichnews has contacted Cheshire East Council for its reaction and we are awaiting comments.