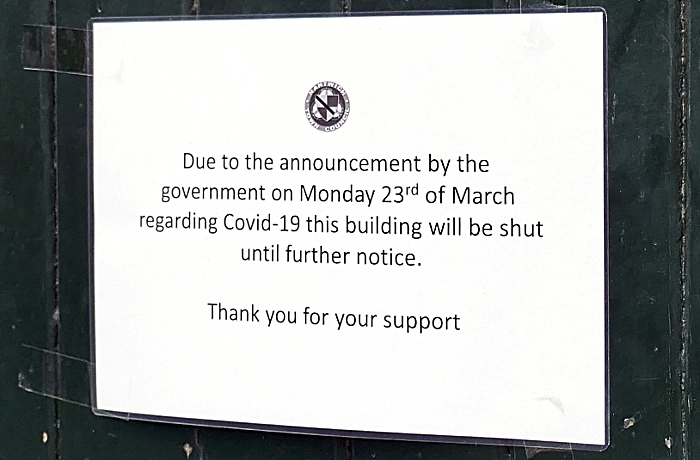 Nantwich Museum wants people's experiences of the Covid-19 pandemic to provide a lasting historical record of the event.
Letters, short statements and photographs are sought, with the aim of gaining an insight into how everyday life in Nantwich changed during the pandemic.
People are invited to submit items, letters, short statements or photographs sharing personal insights into experiences of confinement and isolation.
These could include everyday observations and feelings and the things that symbolise comfort and hope.
Submitted items may be included in the Museum's collection providing a snapshot of life from various perspectives.
It is hoped the act of writing will provide space for reflection and shared experiences will encourage connection, empathy and solidarity.
Letters and statements might be addressed to yourself, to Covid-19 or to someone you know.
The Pillory Street museum asks for them to be signed with full contact details or if preferable signed "Anonymous".
Email items to [email protected], Tweet to @NantwichMuseum
Alternatively, post them to Nantwich Museum, Pillory Street, Nantwich, Cheshire, CW5 5BQ.
Material may be made available for future research, providing a useful archive of social experience within a specific and historically significant time.
Extracts of some letters may be shared anonymously on social media, while some may shape creative activity and future exhibitions.
Meanwhile, the 'Reincarnated Rubbish – Endangered and Extinct' exhibition is now available online at the museum.
The enforced closure resulted in the cancellation of the temporary exhibition inspired by creative recycling artist Val Hunt.
But elements been now made available on the museum's website: www.nantwichmuseum.org.uk
Animals including insects, exotic birds, fish and dinosaurs, all on the edge or now extinct, have been made from a selection of throw away materials, especially Val's favourite medium, drinks can metal.
The online exhibition presents some of the animals it was originally intended to display making a subtle message about recycling and preservation, raising awareness of why the creatures are endangered or extinct.
Val retrieves everyday things we throw away and presents them in a new and fascinating dimension.
Her work recycles a diverse selection of rubbish from which she creates innovated sculptures, wall hangings, hats and jewellery.
It has been shown in exhibitions around the U.K., Denmark, Japan, United Emirates, U.S.A. and has toured overseas with the British Council. She has worked in many permanent collections.
Val won the Gold Award for specialist media in the Craft and Design magazine awards in 2014 and was runner-up in 2013.
Contact Nantwich Museum on [email protected], www.nantwichmuseum.org.uk or https://twitter.com/NantwichMuseum