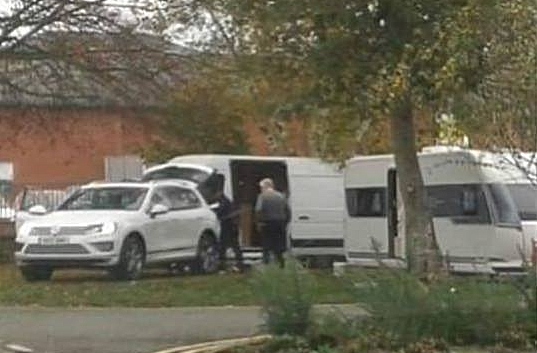 Cheshire East Council admitted today they will not be able to move the latest unauthorised travellers encampment in Nantwich.
Travellers arrived on the Cheshire East-owned Love Lane car park yesterday evening (June 3).
It's the second unauthorised encampment in the town in the last two weeks.
Council chiefs and police have visited the latest group, but today warned they could not seek eviction notice as courts "were not issuing them" during pandemic lockdown.
A spokesperson for Cheshire East Council said: "We are aware of an unauthorised encampment of nine caravans and 10 assorted vehicles on Love Lane car park, in Nantwich.
"There are still plenty of spaces available in the car park for the general public to use.
"Cheshire and Warrington Traveller Team (CWTT) manage unauthorised encampments on land owned by the council.
"Due to the current Covid-19 pandemic, it is advisable to minimise the amount of travel undertaken by Gypsy and Traveller families.
"CWTT officers visited the families at Love Lane car park today (June 4) and advised the group about social distancing and Covid-19.
"Bin bags were provided for the group to bag up rubbish.
"The families have contributed to the provision of two portable toilets to improve public health on the site.
"Due to current circumstances, the courts are not issuing any trespass/ eviction notices, so we are unable to pursue the usual procedures for removal of an unauthorised encampment.
"Our officers are visiting the site to conduct regular checks and Cheshire police are aware of the situation and will monitor the area at regular intervals.
"If there are any incidents of anti-social behaviour, these should be reported to the police in the usual way by phoning 101."