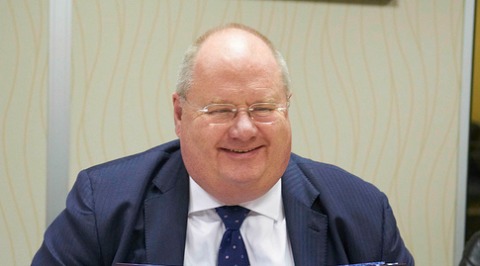 Nantwich campaigners fear a Government Minister rejection of Cheshire East's 5-year land supply claim, has left the area wide open to housing developers.
Secretary of State Eric Pickles (pictured) dismissed the council's claim it has a 5-year housing plan, when he upheld two appeals by developers.
Now it is feared this could play into the hands of Muller Property who are pushing for permission to build a controversial 1,100-home "Nantwich South" village in Stapeley, as well as other developers.
In three appeals judged by Mr Pickles, he stated that Cheshire East does not have a 5-year land supply, despite previous council claims they have a 7-year plan.
Pat Cullen, who runs the ProtectStapeley campaign group, branded Cheshire East Council's claims a "fiasco".
He said: "Even though Cheshire East won one of the three appeals, the common thread in all three was that the Inspector and Eric Pickles said that Cheshire East does not have a 5-year land supply.
"This is despite Cllr Jones and others telling us that CE has a 7-year land supply.
"The Planning Inspectorate calculated CE's land supply as between 3.9 and 4.1 years, somewhat different to 7 years!
"It is clear that an appeal can be dismissed even with CE's 5-year land supply fiasco but there must be other pressing matters.
"As far as Nantwich south is concerned, other matters the Inspector may well take in to account are such things as Kingsley Fields filling the housing requirement, being approved by the town council and part of the Local Plan and possibly the proposed development harming the character and appearance of the countryside."
But Nantwich Town Cllr Arthur Moran, an Independent, said it the appeal ruling by the Government has exposed Nantwich.
Cllr Moran said: "We backed the Core Strategy that would help fend off any further developments in the south.
"But this now leaves us wide open to developers like Muller. It could all fall apart.
"The Conservatives can't hide from this. Cheshire East is a Conservative council, Cheshire East has six Conservative MPs, so if they can't put the case across to a Conservative Government, who can?"
Willaston and Rope Councillor Brian Silvester, UKIP, added: "The political leadership of the council have been going around for several months stating that CE had a 7-year supply of housing land and telling concerned residents they had no need to worry about the proposed huge development on their doorstep.
"This has proved to be incorrect. Those that have been giving those false reassurances should now be examining their position.
"The council now needs to inform residents how they intend to fill the gap in the housing land supply.
"This decision will lead to a review of the Local Plan which is out to consultation yet again. This could lead to yet further delay before the Local Plan is ready to present the the Government Inspector."
A Cheshire East Council spokeswoman said it would issue a statement on this ruling in due course.
(pic courtesy of Birmingham News Room, Flickr Creative Commons)